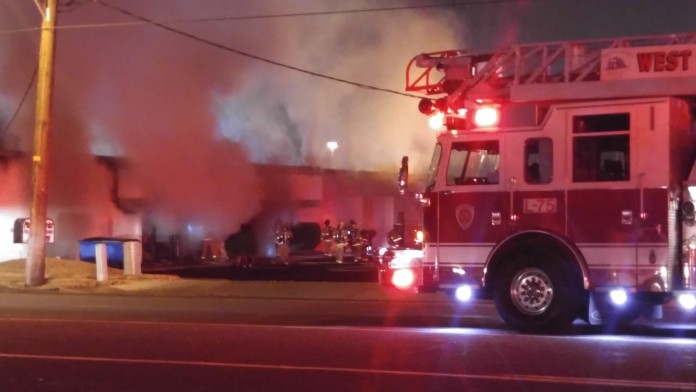 WEST VALLEY CITY, Utah, Dec. 12, 2015 (Gephardt Daily) – A plastic fabrication company in West Valley City was destroyed Saturday in an early morning structure fire.
According to West Valley City Fire Chief Bob Fitzgerald, crews were alerted by a passerby of smoke coming from a commercial building located at 2331 S. Constitution Blvd. at 2 a.m.
"When our crews arrived, there were large volumes of smoke coming from the southwest corner of the building," Fitzgerald said. "It spread down quite a ways into the building, there were large volumes of fire inside."
Chief Fitzgerald said the building is occupied by several different tenants, but the fire was contained to PlasticWorks Inc., a company that specializes in custom plastic fabrication. Even though the unit housed several different kinds of flammables, none of them caused any major challenges for crews.
The cause of the fire is still under investigation, but Fitzgerald said the cost of the damage is most likely in the hundreds of thousands of dollars.