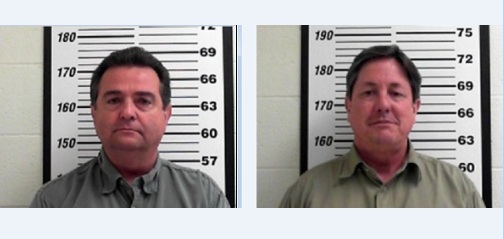 HILDALE, Utah, Feb. 23, 2016 (Gephardt Daily) — Eleven leaders and members of the Fundamentalist Church of Jesus Christ of Latter-day Saints on Tuesday morning were charged with conspiracy to commit fraud and conspiracy to commit money laundering.
The U.S. Attorney's Office alleges church leaders diverted SNAP (Supplemental Nutrition Assistance Program) proceeds from authorized beneficiaries to leaders of the FLDS Church for use by ineligible beneficiaries and for unapproved purposes.
A large percentage of FLDS Church members living in the Hildale, Utah and Colorado City, Arizona ─ together known as Short Creek ─ receive SNAP benefits, amounting to millions of dollars in benefits per year.
The U.S. Department of Agriculture's Food and Nutrition Service operates the SNAP program to provide assistance to low-income individuals and families to purchase food products.
Charged in the indictment are Lyle Steed Jeffs, 56, John Clifton Wayman, 56, Kimball Dee Barlow, 51, Winford Johnson Barlow, 50, Rulon Mormon Barlow, 45, Ruth Peine Barlow, 41, and Preston Yates Barlow, age 41, all of Hildale; Seth Steed Jeffs, 42, of Custer, South Dakota; and Nephi Steed Allred, Hyrum Bygnal Dutson, and Kristal Meldrum Dutson, all 55, all of Colorado City.
Lyle Jeffs is the brother of Warren Jeffs and has been handling the the daily affairs of the organization, including its financial matters, in lieu of Warren Jeff's absence. Another of Warren Jeffs' brothers, Seth Jeffs, leads a congregation of FLDS members in rural Custer County, South Dakota.
"This indictment is not about religion. This indictment is about fraud," U.S. Attorney John W. Huber said today.
"This indictment charges a sophisticated group of individuals operating in the Hildale-Colorado City community who conspired to defraud a program intended to help low-income individuals and families purchase food."
Washington County Sheriff Cory Pulsipher said what started as a small investigation quickly grew to a point where it was important to work with federal agencies to build a case to present to a grand jury.
The case is being investigated by the FBI, Washington County Sheriff's Office,  IRS Criminal Investigation, the U.S. Department of Agriculture's Office of Inspector General, and the Washington County Attorney's Office.
The indictment alleges that
• In March 2015, using SNAP fraud proceeds, Kimball Barlow signed a check for $16,978 to Orchid's Paper Products Company for the purchase of paper products.
• During the period May 31, 2013, through September 22, 2014, the indictment alleges Ruth Barlow signed five checks totaling $13,561 made payable to John Deere Financial. The SNAP fraud proceeds were used for installment payments on a 2013 John Deere load tractor.
• SNAP fraud proceeds were also used for 16 checks totaling $30,236 payable to Ford Motor Credit for installment payments on a 2012 Ford F-350 purchased by Winford Barlow about Sept. 29, 2012.
The Arizona Department of Economic Security, the Mohave Sheriff's Office, the FBI's Minneapolis and Phoenix Field Offices, and the U.S. Attorney's Office in South Dakota, Custer County, South Dakota Sheriff Rick Wheeler have all assisted with the investigation and arrests Tuesday.
The money laundering count of the indictment alleges the defendants conspired to conceal and disguise the nature, location, source, ownership and control of proceeds of a specified unlawful activity while conducting or attempting to conduct financial transactions. The indictment also seeks a money judgment equal to the value of the proceeds traceable to the alleged criminal offenses.
Lyle Steed Jeffs and John Clifton Wayman were arrested Tuesday morning in Salt Lake City. They are scheduled to make an initial appearance on the charges Wednesday at 10 a.m. in Room 7.1 of the federal courthouse in Salt Lake City.
Seth Steed Jeffs was arrested Tuesday morning in Custer County, South Dakota, and will have an initial appearance in federal court in South Dakota.
Defendants arrested Tuesday in the Hildale – Colorado City area will appear Wednesday at 10 a.m. in Federal court in St. George. At this time, Ruth Peine Barlow and Kristal Meldrum Dutson have been taken into custody.
The potential penalty for conspiracy count is five years in prison. The money laundering count carries a potential penalty of 20 years in prison.