SALT LAKE CITY, Utah, Dec. 10, 2016 (Gephardt Daily) —  Former Salt Lake City mayor Rocky Anderson is taking the Biskupski administration to task for what he says is a lack of vision in dealing with the city's burgeoning homeless crisis.
Anderson made his feelings known Friday afternoon during an impromptu press conference outside Mayor Biskupski's office in the City-County Building. A dozen or so members of the homeless community joined him in the demonstration.
Chief among the former mayor's concerns was Biskupski's announcement earlier this week that the city was not inclined to expand emergency shelter space even as overnight temperatures dipped to the low 20s.
"The next person who dies of exposure on the streets of Salt Lake City will be the result of there being no plan, no implementation, and no overflow shelter to provide for the safety of the people who are homeless in our city," said a clearly perturbed ex-mayor. "Put a plan in place. We have no plan in Salt Lake City, so when shelters are at capacity people are out in the cold."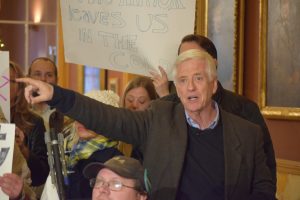 The Biskupski administration disputes Anderson's allegations. Matthew Rojas, the mayor's communications director told Gephardt Daily, despite the record number of people living on Salt Lake City's streets, no one seeking shelter is being turned away. He says not only is there still space available at various shelters, the city set aside money to put people in hotel rooms should care facilities be overrun.
"We have a lot of people on the street, but what the service providers have told us that they have yet — with the combination of the Midvale Center, The Road Home, and all the other facilities — they have not yet hit a capacity marker to bring forward the hotel contingency option."
Anderson responded by calling the 'hotel option' short sighted.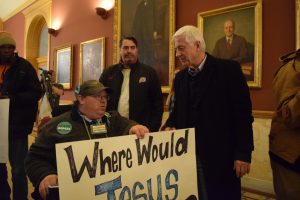 "It's going to the point where people cannot get it and every single person, except apparently the mayor, is insisting that we get a plan in place and facilities where people can go in and get out of the brutal cold."
Homeless advocate Ashley Hoopes echoed Anderson's concerns. She also questioned the administration's understanding of just how taxed the overcrowded facilities are.
"We've got the Midvale shelter above capacity, the shelter downtown operating above capacity," Hoopes said. "People are sleeping on the floor. It's a critical situation."