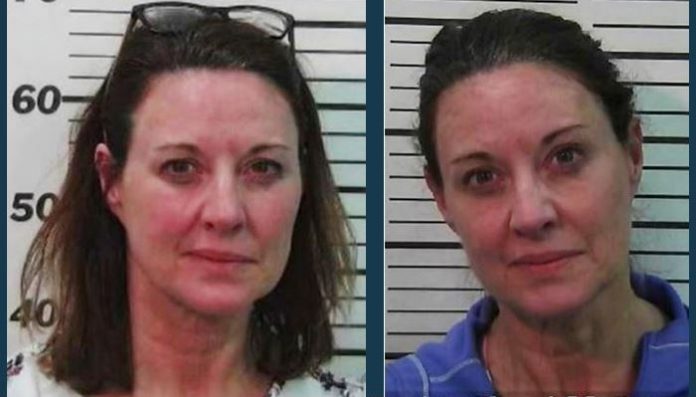 SUMMIT COUNTY, Utah, April 8, 2019 (Gephardt Daily) — Veteran Utah news anchor Hope Woodside is facing multiple DUI charges after being arrested twice in a span of two days in  Summit County.
According to documents filed in Summit County Justice Court, Woodside, 57, was arrested March 29, 2019 by a Summit County Sheriff's deputy after being pulled over for allegedly failing to use a turn signal. During the course of the traffic stop the investigating officer placed Woodside in custody, alleging she was "driving under the influence alcohol." She was also charged with "open container/drinking alcohol in a vehicle."
"There is prior history of complaints against Mrs. Woodside of operating a motor vehicle while suspected of being under the influence of alcohol," said the probable cause statement filed regarding the March 29 charges.
Woodside's car was seen driving on a shoulder in the Jeremy Ranch area, and making a right turn without signaling, the statement says, The filing officer, an employee of the Summit County Sheriff's Office, said he turned on his police lights and Woodside pulled over.
"During contact with the driver, the odor of an alcoholic beverage was observed," the officer's statement says. "The driver was asked out of her vehicle and asked to perform field sobriety tests. HGN, Walk and Turn, and One Leg Stand tests were administered. A preliminary breath test was requested but Mrs. Woodside refused the PBT (Preliminary Breath Test). I determined that Mrs. Woodside was in violation of driving under the influence and placed her under arrest for DUI and failure to signal.
"Mrs. Woodside was placed under arrest and transported to the Summit County Jail. During the inventory of Mrs. Woodside's vehicle, a Diet Coke can was found in the center console. This Diet Coke can was open and approximately one fourth full of an alcoholic beverage. A bottle of Hogue Chardonnay was located behind the front passenger seat on the floor. The seal was broken on this bottle. During questioning Mrs. Woodside admitted to consuming alcohol and operating this motor vehicle."
A day later, on March 30, 2019, Woodside was arrested on a second DUI charge, this time by the Utah Highway Patrol.
On March 30, a trooper was dispatched to a vehicle that had run off the Interstate 80 westbound off ramp at exit 141.
"I arrived on scene and a bystander told me she (the suspect) was in her vehicle on the back seat," the UHP trooper said in the probable cause statement for the March 30 incident.
"I approach the vehicle to see Hope Woodside as the sole occupant of the vehicle. I asked Woodside to step out of the vehicle and to tell what was going on. She stated another vehicle was swerving which caused her to crash into the snowbank in the gore area.
"While Hope got out of her vehicle I noticed she stumbled and struggled to maintain balance while standing and talking with me. Her eyes were red and glossy. I conducted Field Sobriety Tests and observed 6/6 clues during the Horizontal Gaze Nystagmus Test. Multiple clues on the Nine Step Walk and Turn. Multiple clues during the One Leg Stand.
"Woodside would not perform a steady breath to be able to conduct a PBT," the trooper's account says. "I arrested Woodside at approximately 22:29 hours. During an inventory of her vehicle, an open container of alcohol was found."
A subsequent chemical test allegedly showed "that the defendant had a blood or breath alcohol concentration of 0.05 grams or greater at the time of the test," court documents said. An open container was also found in Woodside's vehicle according to the UHP report.
Woodside has retained Salt Lake City defense attorney Greg Skordas. She's due for a court appearance May 14.
Woodside, a news anchor for KSTU/FOX 13 for more than two decades, surprised followers back in September 2018 when she announced she was leaving the station. In a one minute pre-recorded statement played on the station's 9 p.m. newscast, Woodside thanked her fans and colleagues, saying the decision to go was hers.
"As you know, I've taken some time off and thank you for all the kind words and messages of concern. I have missed you.
"But, I have a bittersweet announcement to make tonight," Woodside said. "During my time away, I've had the opportunity to reflect on my life, and I've decided it's time to leave my Fox family.
"For 23 years you've been kind enough to welcome me into your homes. It's been an honor and a privilege to serve this community and work along side some of the finest journalists for the past 35 years.
"I've decided now is the right time to step away from the newsroom. It's impossible to put into words the joy and satisfaction I've had delivering the news to you. The stories we have shared often touched me. You've seen me tear up on the air. I hope they've had an impact on you as well. I'm blessed to be a part of your life and wish you all good health and happiness.
"So, this is me, signing off for the last time. And thank you so much for watching.
"I hope to see you around town, and, if you see me, please stop and say hello."
Woodside first came to Fox 13 in 1995 when she was paired with anchorman Bob Evans.  Their 23-year tenure made them the longest running primetime anchor team in the Salt Lake City TV market's history.