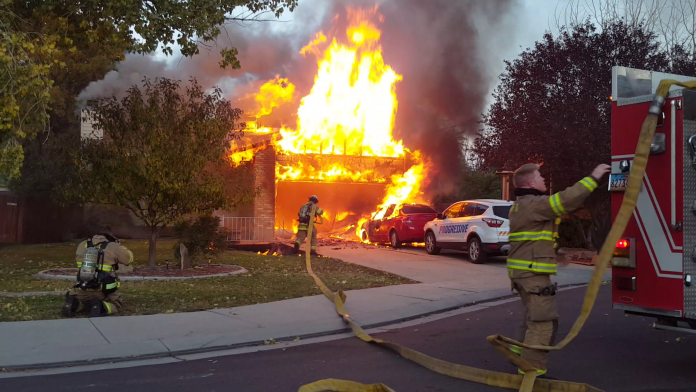 WEST JORDAN, Utah, Oct. 12, 2017 (Gephardt Daily) — A West Jordan home is uninhabitable after a raging fire broke out in its garage.
West Jordan Fire Department Battalion Chief Steve Holmes said reports came in at about 6:40 p.m. of a fire at a home near 6730 Blue Flower Court. Neighbors said they heard a loud explosion and immediately saw fire in the home's garage.
"We were dispatched and on scene relatively quickly," Holmes said. "When we arrived, the garage was fully involved in smoke and fire, and we were able to get it knocked down in probably five or 10 minutes."
Investigators were on scene, but the cause of the fire is not yet clear.
Initial reports suggested there were two adults in the home, but it was found to be empty.
Holmes said there was heavy fire damage to the garage and heavy smoke damage to the house, but an exact damage estimate was unknown. There was also severe damage to a vehicle parked in the driveway.
The two residences nearby were not damaged. There were no injuries as a result of the blaze.