ROY, UTAH – October 23, 2015 (Gephardt Daily) – A benefit concert and community fundraiser to help a Syracuse teen fight a rare immune disorder will be held Saturday in Roy.
Thirteen-year-old Gracie Hinds is like any other ordinary teen in many ways, she is friendly, social and likes music, art, and fashion. But her extra-ordinary ability to continue to live her life full of fun, joy and love, despite a life-altering immune disorder, gives the phrase "Amazing Grace" a whole new meaning.
In 2011 when Gracie got a case of strep throat her immune system attacked her brain instead of the actual virus. She spent three months in a coma while her immune system was killed off and eventually replenished.
Three years later, Gracie still spends her life living around the restrictions of her disorder. She suffers from seizures and memory loss and is required to undergo weekly infusion treatments that cost her family $1,500 a month. Since the treatments are still considered experimental, insurance will not help cover the cost.
The family has endured thousands of dollars in medical costs including out-of-pocket costs for brain scans, prescriptions and other tests regularly done on Gracie. In an effort to help the family bear the financial strain this has placed on them, Julie and Terry Strickland, who own the Rainbow Saloon in Roy, have put together an entertainment filled day of fundraising.
"Ryan, Gracies' dad, was a beer salesman for our bar when Gracie first got sick," said Julie. "It was really hard on him, his wife and his family. I brought blankets to the hospital and met his wife Mindy and could see how heartbreaking it was for them to watch their little girl go through this."
Julie said she immediately decided she wanted to help saying "Ryan was so humble, he didn't want to accept they needed help but I told him they did not need to go through this alone, I mean what if we all donated just $5? How much could that really help them?"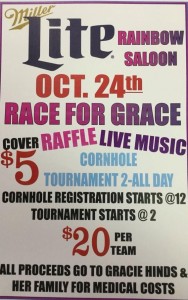 Saturday will be the third fundraising event the Stricklands have held at the Rainbow Saloon. Last year, the event raised more than $4,000. "This year is going to be great too. We hope to be able to cover a year's worth of treatments for Gracie," said Julie. "There will be a raffle for a lot of great prizes such as ski tickets, signs, coolers and restaurant certificates."
The event starts at 1 p.m. and goes until the bar closes at 2 a.m. Live music will be provided by Bill N Diane, Scotty Haze and Brett Turner, all local bands. They also plan on using a cornhole tournament, a game in which players take turns throwing bags of corn at a raised platform with a hole in the far end, as another way to help raise money.
For anyone wanting to help who cannot attend the fundraiser, the family has set up an account under the name of Gracie Hinds at America First Credit Union.