Funnel Cloud Sighted In Bryce Canyon
BRYCE CANYON, UTAH – May 26, 2015 (Gephardt Daily) –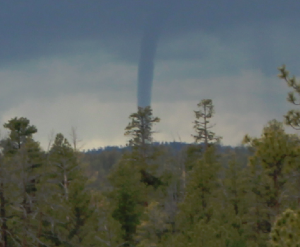 Tourists in Bryce Canyon caught a rare sight Tuesday in the form of a funnel cloud.
According to the National Weather Service in Salt Lake City, the twister appeared west of the park's visitor center around 12:30 p.m.
A photograph of the funnel cloud was sent out via Twitter.
The weather pattern that generated the funnel cloud is part of the same system that's lead to widespread downpours across most of the state the last few days.
The NWS says May's wet weather pattern is providing much needed rain to the drought stricken state. So far, monthly precipitation totals have run double their normal amount.
There were no reports of damage due to Tuesday's funnel cloud sighting.