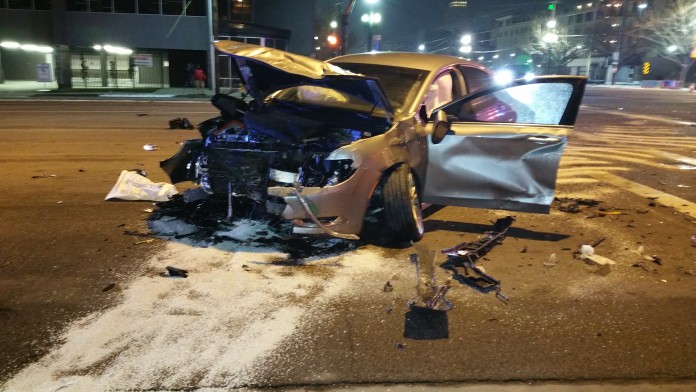 SALT LAKE CITY, Utah, Dec. 31, 2015 (Gephardt Daily) — Two people were injured early Thursday morning when a member of the Unified Police Gang Unit broadsided another car near downtown Salt Lake City.
According to Utah Highway Patrol Sgt. Chamberlin Neff, the incident happened just after midnight when agents with State Bureau of Investigations Gang Unit and troopers from the Utah Highway Patrol were following a suspicious vehicle.
"An SBI agent who was driving a Chrysler 200 was following a vehicle when a collision occurred and he T-boned a Kia at the intersection of 400 South 200 West," Neff said. "We are unsure how the accident happened. Investigators with the Salt Lake City Police Department are currently working to recreate the scene."
Neff said the driver of the Kia was transported to Intermountain Medical Center in serious condition with head, back and chest injuries.
"The agent was also transported to IMC with a head laceration and minor injuries," Neff said.
Investigators are hoping there may be video surveillance from surrounding businesses to help piece the incident together but Neff was uncertain if this particular unit comes equipped with a dash cam.
"It is possible he may have had a body cam on, we are hoping to know more once we get a chance to talk to the agent involved," Neff said.
Several agencies are involved and once the information has been sorted, an update will be made available.
The suspicious vehicle the agents were originally following has not been located.