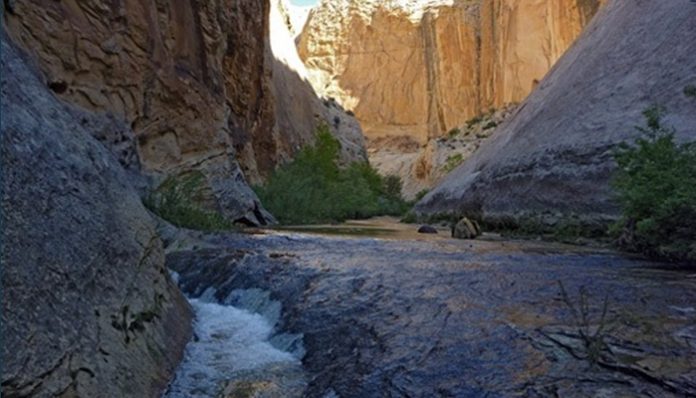 ESCALANTE, Utah, May 28, 2019 (Gephardt Daily) — Garfield County crews mounted a nine-hour rescue operation after four Salt Lake area women became stranded in a slot canyon in the Escalante area Sunday.
Search and Rescue crews were called out to a search in an area known as the Box Death Hollow slot canyon at approximately 8 p.m., according to a news release from Garfield County Sheriff's Office.
Dispatch received information from a beacon alert company that they had received a beacon alert from an individual who was stranded and hypothermic in Box Death Hollow, with three others, the news release said.
Garfield dispatch immediately called out Search and Rescue in Escalante along with the Department of Public Safety helicopter and crew.
When the call came out to Search and Rescue, only three of the members were available; Garfield County Commissioner Jerry Taylor, Rick Green and Justin Porter. Taylor and  Green went to the airport and waited for the DPS Helicopter and their crew, the news release said.
"When the helicopter came, they picked up Commissioner Taylor and Rick Green and took them to a location near the coordinates from the beacon alert and let them out," the news release said. "By this time, daylight was gone. Commissioner Taylor and Rick Green attempted to climb into the slot canyon but the terrain was steep and extremely dangerous. It was decided that they should go back up and seek the help from the helicopter by using the hoist from the aircraft."
After the decision was made to hoist the individuals out of the slot canyon, the DPS helicopter had to fly to Moab and pick up another crew member to help assist with the hoist.
"The four women who were in the slot canyon had stated that they thought that Box Death Hollow Canyon would only have ankle to knee deep water that they would be walking through, but after hiking for some time, they realized that they would have to be in deeper water, even swimming in areas," the news release said. "The weather had been cold and wet and hypothermia was setting in on these individuals. The women were able to get on a ledge. Luckily one of the women had decided to get a beacon alert before going on this hike or they possibly might not have been located."
The Department of Public Safety helicopter and crew lifted each individual out of the slot canyon.
"They were cold, tired and frightened but there were no injuries," the news release said. "They were warmed up with blankets and examined by the Garfield County Ambulance crew."
No one was taken to the hospital; Taylor gave them a ride to their vehicle.
The women all came from the Salt Lake area and their ages ranged from 40 to 53. The women stated that they had hiked in other areas by Escalante at other times so they were somewhat experienced hikers.
"Garfield County has some of the best hiking adventures around but they can be extremely dangerous," the news release said. "The weather has been rainy, snowy, and cold. When you hike a slot canyon you might never know how much water can rise in the narrow canyon."
The search started at 8 p.m. Sunday and was not complete until 5 a.m. Monday, the news release said.
"Garfield County Search and Rescue consists of volunteers who are willing to train and be available whether it is day or night to help those in need," officials said.