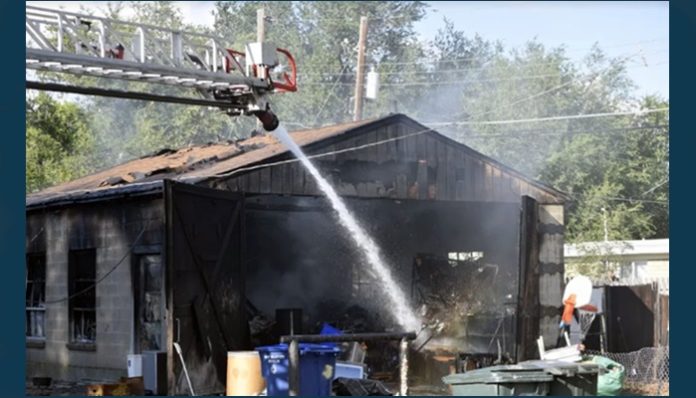 WEST VALLEY CITY, Utah, Sept. 8, 2020 (Gephardt Daily) — West Valley City firefighters responded to a large shed fire Tuesday and had a lot to deal with because the structure was filled with combustible items, including gasoline and propane tanks, fire officials said.
Battalion Chief Nick Dodge, with West Valley City Fire Department, told Gephardt Daily at the scene the initial 911 calls reported a structure fire at 3299 S. 3600 West, just after 4:30 p.m.. Subsequent calls reported a shed fire, so crews weren't sure if they were heading to a home or a storage building, Dodge said.
When crews arrived, they found a "good-size shed, about 20 feet by 50 feet" with heavy smoke and flames, according to Dodge.
Additional firefighters responded to the scene, but nearby power lines presented a challenge for everyone.
"All the good access to the structure was where the power lines were, and as soon as the crews started spraying water and a little drop or two would hit those lines, it would arc, so we knew those lines were still active," Dodge said. "So we had to approach from a different angle, and it wasn't the best angle, but it was all we had."
He said that, in addition to the power lines, there were other concerns.
"The amount of fire that we had upon arrival — and by the time we get here and you see that amount of fire — with today's light-weight construction, light-weight trusses, we have collapse potential, so we don't want to put any crews on the interior," Dodge said.
Another problem was that "there was a lot of stuff in there."
"And we don't know what's inside. There's miscellaneous items, storage, gasoline, propane tanks, there's all kinds of stuff in there…we're still trying to figure out everything that's in there," Dodge said after crews were on scene for well over an hour.
He said the structure is a total loss, and firefighters still had a lot of work ahead of them.
"Right now, you can see with the amount of what we call 'fire-load' in the structure here. We've got to start making some access to get to just the little hot spots, so we can start getting the little things put out. And then we're also investigating and trying to determine the cause."
Dodge said this is one of those cases where officials will be on scene into the night, especially to make sure the wind doesn't spread any embers. He also said a request went out to Rocky Mountain Power to come out and render the power lines safe, but he knew RMP crews were already swamped with calls because the wind overnight into Tuesday had brought down so many lines, leaving thousands of customers without power.
No dollar estimate of damages on the West Valley City shed was available Tuesday.