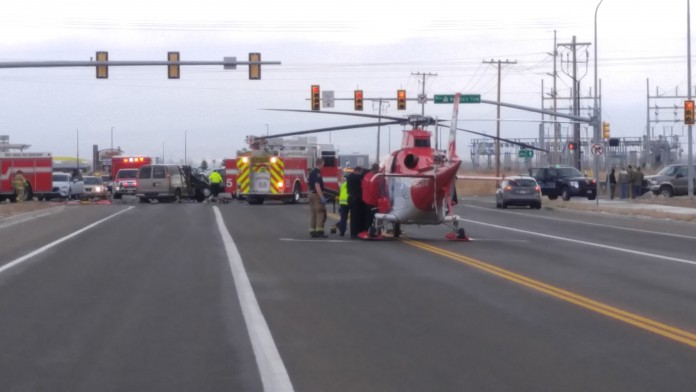 WEST JORDAN, Utah, Dec 12, 2015 (Gephardt Daily) — A 12-year-old girl is in critical condition at Primary Children's Hospital after a semi and van collision caused her to be ejected from the van.
The accident happened just before 10:30 a.m. Saturday at 7800 S. Mountain View Corridor, according to reports.
"The van was going eastbound, and it ran a red light, according to witness reports," said Lt. Scott of the West Jordan Police Department.
"The 45-year-old driver of the van is in stable condition. The 12-year old passenger is critical, and was flown to Primary Children's Hospital. The 10-year-old was treated and released, to be driven by private car to IMC (Intermountain Medical Center), where her father was."
The truck driver, who was not injured, said he did not see the van, but felt the impact, which caused his truck to jackknife.  The van driver required extrication from his vehicle, and the extrication was difficult, List said.
There is no indication at present that drugs or alcohol were a factor in the accident, List said, but witnesses were suggesting aggressive driving on the part of the van driver might have contributed to the accident.
Both vehicles were equipped with black boxes, which should provide helpful information, officials said. List said speeds on the Mountain View Corridor make accidents especially bad, and he urged drivers to use caution.