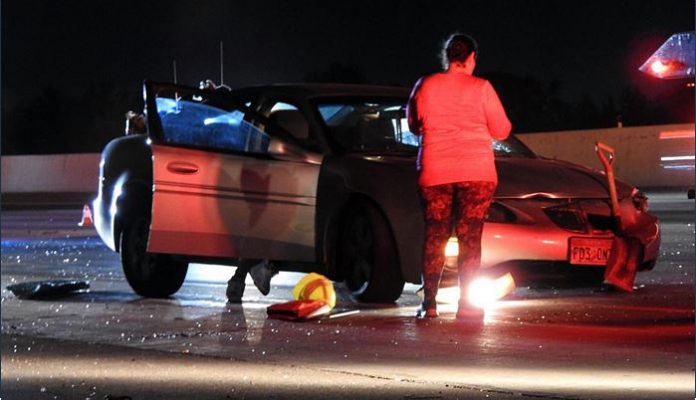 SALT LAKE CITY, Utah, Aug. 30, 2019 (Gephardt Daily) — Two men were hospitalized Thursday night after one stopped to help a collision victim on Interstate 215 in Salt Lake City, and another vehicle struck the "good Samaritan."
Sgt. Eric Zeeman, Utah Highway Patrol, told Gephardt Daily at the scene, near 2900 North northbound I-215, that the accident happened at about 10:45 p.m
"Dispatch received calls that there was a wreck with injuries," Zeeman said. "Troopers arrived on scene. It appears there was a semi versus a four-door passenger car that made contact and had an initial collision. The semi pulled off the road.
"Another passenger car came around the curve, and in the dark, didn't have time to react or stop before coming on the initial crash."
Between those two collisions, a man in an uninvolved car had stopped to render assistance to the first victim.
"That individual was standing next to the first car when the second car came around and hit the first car and that pedestrian," Zeeman said. "So at that point, we had the original crash with an injured male, and in the second part of that crash, we had another injured male with broken legs from that second car."
Both victims were transported to local hospitals in very serious condition, he said.