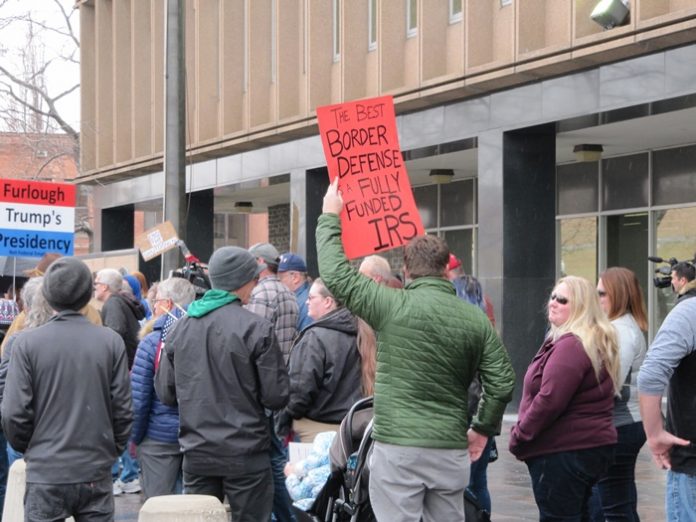 OGDEN, Utah, Jan. 10, 2019 (Gephardt Daily) — The government employees who gathered at noon Thursday to rally outside the James V. Hansen Federal Building in Ogden weren't about to let the almost freezing temperature and light snow dampen their determination. They want to go back to work, and they want to go back now.
Matt Westrich, of Roy, an IT employee for the Internal Revenue Service in Ogden, was out in front of the Hansen building at 11 a.m.
As other organizers arrived, Westrich told them, "Security won't let me in to plug in the speakers."
He explained that "security" is a private company, and they won't let him into the building because the manager is on furlough.
Westrich was prepared, though, and had brought his own generator to power the speakers, so the union representatives and others could be heard by the rapidly growing crowd.
Regarding the current furlough situation, Westrich commented, "There's nothing in writing that says I'll be due back pay. If we go on unemployment and then we get back pay, we'll have to give the unemployment back."
Shelly Carver, who is an officer in the National Treasury Employees Union, represents 5,000 IRS employees in the Ogden area.
"We shouldn't be held as pawns in the political arena," Carver told Gephardt Daily. "Right now, I do know the NTEU has filed two lawsuits. The first is for violation of the Fair Labor Standards Act, and the second lawsuit is challenging the constitutionality of the shutdown."
NTEU represents 150,000 employees at 32 federal agencies and departments.
Chad Mortensen is a letter carrier for the U.S. Postal Service. As president of the Utah Northern Labor Council, he wanted to come out to show support for other workers.
"They need their money," Mortensen said. "At some point we've got to do what's best for the workers and the American public."
Pam Harrison, a social worker who provides counseling for IRS and Forest Service employees, expressed concern that a lot of people are living paycheck to paycheck, and this partial shutdown is only making things harder on them.
Harrison is not a government employee, but she wanted to be part of the rally to show her support for workers who are affected by the shutdown.
She said she thinks President Trump is the reason the administration is "treating faithful servants as pawns."
Christina Provence came to the rally to "support my colleagues who are out of work." She said she has gone through several government shutdowns, and she did get back pay, but said the whole experience is "emotionally traumatizing."
"It's just unfair," she said. "It's not our decision."
The crowd began to chant: "Hey, hey, ho, ho, the government shutdown's got to go. What do we want? We want to work. When do we want it…NOW!"
They repeated these phrases several times, almost politely, but not apologetically.
Was there any concern about backlash from their government employers? Not according to those in attendance, although a few said it's possible that some workers stayed home because they fear repercussions.
Two people who came downtown on an errand — Charlene Thompson and her daughter — hadn't heard about the rally, but stayed to participate.
Thompson retired in January 2018 after 11 years and three months working for the IRS. She's a member of NTEU.
Thompson's daughter, Shelly Weber, started working for the IRS in 1998, and says she was "forced out on disability retirement in 2014," because of a back injury that required surgery. She said she has three children to support and pays for her own health insurance.
Non-government workers are seeing the effects of the partial shutdown in many aspects of people's lives.
Karen Thurber is a volunteer for Volunteer Income Tax Assistance (VITA). She volunteers through Cottages of Hope, an Ogden-based non-profit agency that serves Weber County.
Thurber said she works with about 1,200 households in the Ogden area, and she doesn't know yet if the shutdown will affect them, but she wanted to show her support for workers in general because she feels the shutdown is having a widespread impact.
"What's going to happen with airport security, for one thing?" she asks. "For me, the Statue of Liberty is a symbol of America, not a wall."
Local businesses feel the pain
You can walk along Ogden's Historic 25th Street and talk to business people who are feeling the effects of the shutdown. Here are just a few:
Coldstone Creamery and Rocky Mountain Chocolate Factory manager Annie Ogemaw says, "We're going to start opening later. And, although winter is quieter for us, winter weather is not an indication, because people eat ice cream all the time, and if they don't want ice cream, we have all these other things." She gestures toward an array of chocolate delicacies and gift items.
Ogemaw says this is the first time they've changed hours in the two and a half years the business has been on 25th Street.
"It's Congress that is doing this — not the president," she says. "They aren't held accountable. We need term limits."
Ogemaw says it isn't only the partial shutdown that's a problem. On a personal level, she says, her daughter, who has young children, has a heart condition, and "the medication for it costs $4,000 a month." Although help from Medicaid is available, she says, "Why is health care so expensive? Why does medicine cost so much?"
Anna Davidson, who with her husband, Ron, owns Jessie Jean's Cafe on Historic 25th Street, says, "The shutdown is definitely adversely affecting us. The longer it goes on, the worse it gets."
On Tuesday, Anna and Ron had a meeting with their 13 employees and explained the need to cut hours, from full-time to part-time, so that all the employees could keep working.
"They've seen it over the past couple weeks," Anna said, "so they were very good about it, very understanding."
She said even though some government employees are still working, they can't afford to eat out. "It's definitely having a domino affect."
"The political parties aren't meeting in the middle," Anna said. "The burden is on the voters. We need to hold their feet (the people we elect) to the fire."
Travis Finch, who was helping out at Good Life Cafe while owner Tyler Lathrop was out, told Gephardt Daily the partial government shutdown has definitely caused a lull in business.
"There are seven employees, and their hours had to be cut. One is down to two part-time days a week," Finch said.
"The president's throwing a hissy-fit over his wall and it's affecting the whole country. And Mitch McConnell is blocking every bill," he added.
"We can call, we can write — they don't hold town hall meetings anymore because they don't care what the population thinks."
Gephardt Daily will follow this developing story as the partial government shutdown continues.
Gov't shutdown protest, Ogden, Jan. 10, 2019