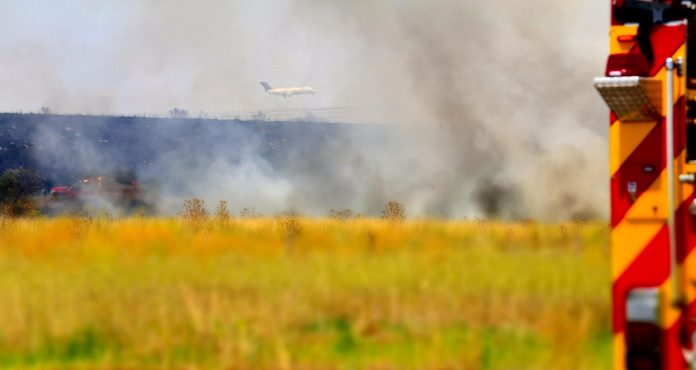 SALT LAKE CITY, Utah, July 25, 2018 (Gephardt Daily) — Interstate 215 northbound in the area of 800 South in Salt Lake City was shut down as crews battled a two-alarm grass fire Wednesday afternoon.
Salt Lake City Fire Department public information officer Audra Sorensen told Gephardt Daily that dispatch got a call from a nearby business at approximately 12:30 p.m. that there was a fire in the area of Indiana Avenue (850 South) and about 1900 West off I-215 near exit 22.
"We're not exactly sure what caused this fire, but fortunately its 90 percent contained," Sorensen said. "I don't want to sound repetitious, but our firefighters just continue to impress everyone on how quickly they're attacking these fires, their training and their skills are just tip-top. So again another success in knocking down a fire quickly.
"I think we just need to be vigilant in making sure all the residents are aware of the conditions and any kind of ignition source whether it be a spark or a cigarette butt. Anything in these conditions could really start something quickly. These are just very dry and dangerous conditions."
Some 24 firefighters battled the blaze, she said, and they were at the scene in less than a minute because the new fire station, station 14, is close by. The fire burned four to five acres, she said.
No one was injured in the course of the blaze and no structures were damaged.
Sorensen said the fire may well have spread faster if there was wind.
The cause of the fire is under investigation, she said.
Gephardt Daily will update this developing story as information is made available.