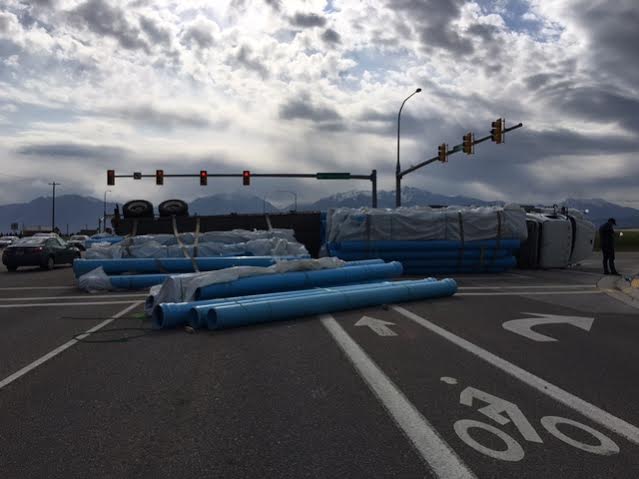 WEST JORDAN, Utah, May 24, 2016 (Gephardt Daily) — A semitrailer carrying large quantities of piping rolled after a attempting to turn onto Mountain View Corridor Tuesday morning.
West Jordan Police Lt. Dean Waters said the semi was traveling west on 9000 South and attempting to turn left onto southbound Mountain View Corridor at 8:20 a.m. when the load tipped causing the tractor trailer to roll onto it's side.
"It doesn't appear he had excessive speed but it does appear the load was in excess of weight limits," Waters said. "Too much weight just caused the truck to tip as it rounded the corner."
Waters said the straps holding the load broke after the semi rolled causing the pipes to spill onto the roadway.
The truck is owned by Ferguson Waterworks of Salt Lake City. No other vehicles were involved in the accident.
The driver was not injured. Waters said it is likely he will receive a citation for the violation of the weight distribution.
Mountain View Corridor and a portion of 9000 South were closed for while they cleaned up the spill.