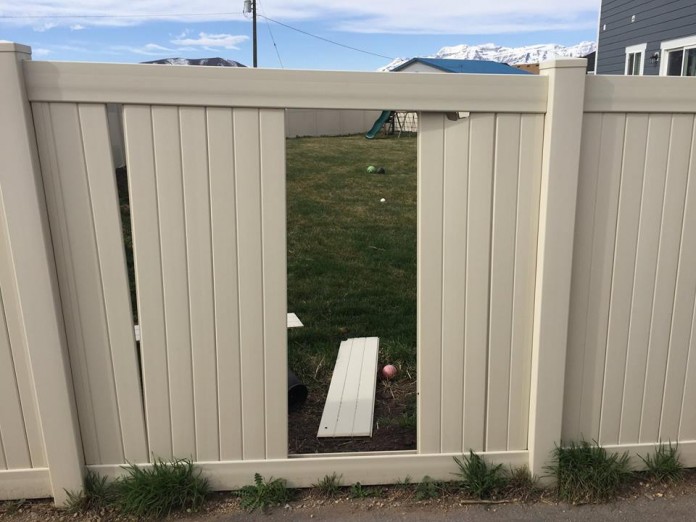 HEBER CITY, Utah, April 27, 2016 (Gephardt Daily) — Police in Heber City have solved the mysterious cases of a fence-smashing vandalism spree by local teens.
Heber City Police officer Xela Thomas said three teenagers were charged in 4th District Juvenile Court with 11 cases of damaging vinyl fences that all occurred during spring break, costing homeowners hundreds of dollars.
"The juveniles said they were 'bored' during spring break," Thomas said. "They said they were tired of playing Xbox, and sneaked out of the house to go 'fencing.'"
Thomas said none of the parents knew their kids had snuck out of their houses.
The trend, called "fencing," has increased dramatically over the last few years. In a post on the Heber City Police Facebook, Thomas reminded residents that the city has a curfew in hopes that more parents will be paying attention to where their kids are at night.
"Do you know where your kids are? We know that a few are out fencing," Thomas said. "What is fencing? Well let me tell you about it! It's when a person kicks, punches or shoulders their way through vinyl fencing."
You can find several videos on YouTube that show kids intentionally running through and destroying fences, all just for fun. The practice is against the law, and costs homeowners upwards of $500 each for repairs, Thomas said.
In an effort to help stop the vandalism, Thomas said her office is cracking down on curfew violations, and asking that parents be aware of where their children are.
Heber City Police are also reminding parents of the curfew times for their city:
The curfew for age 15 and younger is enforced from 11 p.m. to 4 a.m. For age 16 to 18, the curfew is between midnight and 4 a.m.
The only exception is for youths who work Friday and Saturday night during curfew periods.