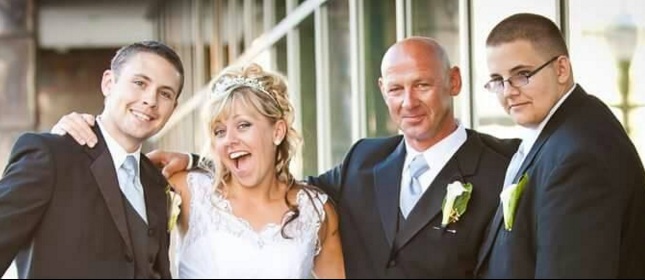 SALT LAKE CITY, Utah, March 28, 2016 (Gephardt Daily) — A Unified Police officer who became a hero after stopping to rescue a couple in a house fire on his way to a fallen officer's funeral has seen his own outpouring of love and support after his father passed away while on vacation last week.
Officer Brandon Sulich's dad, Dariusz Sulich, known by friends as Darek and originally from Poland, was on a trip to Cancun with friends when he was suddenly swept under by a current while snorkeling. CPR efforts were made to save his life, but he did not survive.
Faced with the extraordinary cost to bring Darek Sulich's body home from Mexico, a family friend started a GoFundMe account. In the three days since the account was started, it has raised nearly $17,000, and while that is enough to cover the cost, the family is still waiting for paperwork to be completed before being able to make the actual transportation arrangements.
Any remaining funds collected will be used to help cover the cost of the funeral. The friend was aiming to raise $7,000.
On January 28, 2016, Brandon Sulich had been an officer for just 11 months when, minutes from leaving with his unit for the funeral of fallen UPD officer Doug Barney, he heard a radio call regarding a fire two blocks away.
"I had my car radio going, and I heard dispatch announce there was a house fire nearby, and when they put out the address I realized I was probably about 30 seconds away," Sulich said at the time.
"The priority to save lives is more important. It wasn't like I struggled with it, about how long it took me to get my hand up and put my shifter in drive was about how long it took to make the decision."
Once Sulich arrived he was told there was an elderly couple still inside in the basement. He entered the burning home and found the frail couple who seemed confused. Sulich grabbed the man underneath the arms and helped him upstairs and out of the house while responding officers, Sgt. Trudy Cropper and officer Scott Folkers, of the West Valley City Police Department, used a wheelchair to help the woman.
Cropper said she realized then that Sulich was in his Class A uniform and that he was not supposed to be there.
"He wasn't dispatched to be there, and he stopped to help these people," she said. "He was only there about three and a half minutes, and we got the couple out, then he proceeded to go to the funeral…. And that's pretty amazing, that he wasn't dispatched and he stopped on his way to a funeral to help these people."
Sulich's father Darek, a former Olympic wrestler, was an employee of Sandy City Parks and Recreation, and his co-workers are also still trying to cope with his loss.
"I always looked forward to him coming into the office, he worked here for 12 years and I always loved hearing his accent," co-worker LeAnn Earl said. "I knew he was a great guy, but after hearing other friends here at Sandy City talk about him, it is apparent he was a really great guy to everyone."
Carl Ford, also a co-worker and friend of Darek Sulich's for 27 years, said he moved to the United States many years ago and eventually was able to bring his mother and step-father out here so he could take care of them.
Ford and Earl both said Sulich was so excited to be going on this vacation and that he talked about it all the time. It was his first one in 30 years.
Darek Sulich leaves behind two other children, Aska "Joanna" Sulich and Krystian Sulich, his mother Helena, and many other friends and family members.