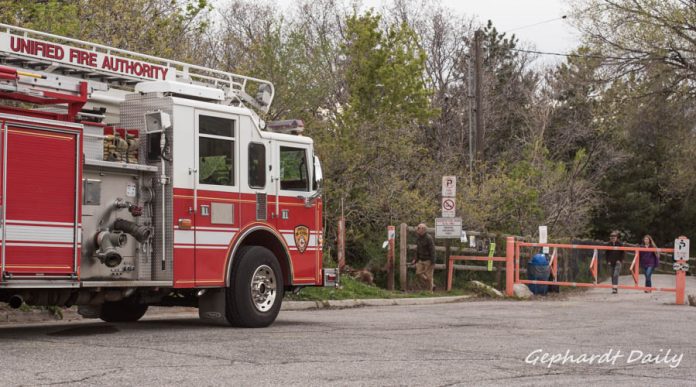 SALT LAKE CITY, Utah, April 23, 2017 (Gephardt Daily) — A woman drowned Sunday evening in the swollen creek in Tanner Park after going into the water to save one of her dogs that was being swept away by the current.
Unified Police Lt. Dan McConkey told Gephardt Daily the 58-year-old woman and her husband had been walking their dogs along the trail. The dogs went into the water, only to be caught in the swift current.
McConkey said the woman and her husband both went into the water to save the dogs and they, too, were swept up in the rapids. The husband was able to get out of the water, and the dogs also managed to get out safely, but the water was too fast for the man to get his wife out. She was pronounced dead at the scene.
As other people in the area realized what was happening, they raced to help.
First among them was Giovanni Bardelli, who was walking his dog when he saw the woman in the water.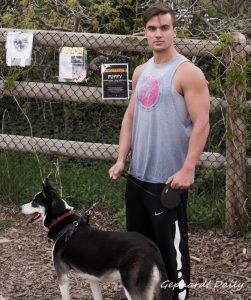 "I saw a lady carried down in the rapids, just going around and around, so my first instinct was to see what was going on and jump in," Bardelli said. "I gave my dog to the husband — he was at the bottom of the river. He was pretty cold, too. He had been in the water for a while."
Bardelli said he jumped into the water and went after the woman.
"The current pulled me, like two times around, too. But finally I grabbed onto her foot and I pulled her out of the water and took her into shore. After that, people started coming. Two other people came running, saying they knew CPR, and I just let them take it from there," Bardelli said. "I was pretty in shock, I was shaken. I didn't know how to react to it."
He later said he didn't know where he got the strength to overcome the rush of the rapids and pull the woman out.
When asked what he was thinking that made him go into the water, Bardelli said, "You gotta look out for other people … anybody. It doesn't matter who it is, you gotta do something to help them out. If it was my mom, I'd hope that somebody jumps in to save her life, too."
Bardelli said the woman was unconscious when he first reached her, but she seemed to still be breathing and her eyes were open when he pulled her to shore. He said her husband started doing CPR, but her eyes then closed and her color was changing.
Bardelli is originally from Brazil, but has lived in Salt Lake City for about 14 years. He said he comes to Tanner Park about once a month and has never seen the creek running the way it is now.
"I've never seen the rapids so strong as I saw them today. It's probably from all that rain and snow we've been getting." Referring to his previous visits to the park, he said, "Oh, man, before you would see dogs all swimming in the water, having a good time, but the water was just still then. It wasn't running like today.
"I mean, I don't recommend any dog owners to let their dog off the leash over there (near the water), because while I was there, two other dogs went in and just barely came out."
Seventeen-year-old Jared Gonzalez was also at the scene as events turned tragic.
"When I first arrived, firefighters were just barely getting here, so I started riding (my bike) down as soon as they started coming down," he said. "By the time I got to the end of the whole trail,  they were there, and they asked me if the EMTs were on their way."
When Gonzalez told the Unified Fire personnel that the EMTs were coming, they instructed him to direct the EMTs to their location. He did, and then watched as they performed CPR on the unconscious woman.
"It really is scary seeing somebody … not breathing," the 17-year-old said. "It really is an experience you can't put in words. And then the flashing lights and everything — seeing everyone traumatized just like you — it's really hard to put into words."
Gonzalez is a junior at Skyline High School and said he runs cross-country track and field. But safety is always a concern.
"We run a lot down here (in Tanner Park), but not this time of year because of the spring runoff."
Lt. McConkey said it's important to caution the public against taking dogs off-leash anywhere near the water.
"The creeks are running fast and the water is cold," he said. "It'll sweep them away, along with anyone who tries to go in after them."