HERRIMAN, Utah, Dec. 2, 2017 (Gephardt Daily) — Family friends of the Herriman 5-year-old who passed away Saturday, two days after a near-drowning accident in the bathtub, have started a charity account to help the family.
The GoFundMe page link asks for help for the mother and father of Aabel Herrera, saying parents Bri and Jose could use any donations to help pay for funeral services and the cost of their son's stay in the intensive care unit:
Our close friends Bri and Jose's 5 year old boy Aabel had an accident and passed away this weekend.
We started this GoFundMe in the hopes that we could take care of the financial burden from the ICU stay before he passed and the upcoming funeral. 
Losing a child is bad enough without the constant reminders of bills coming in. Surviving your children is one of the hardest things to go through.
Thank you for your kindness and support and we hope you have a Merry Christmas.
The boy, whose identity has not been confirmed by police, was rushed to the hospital Thursday evening after his father, who was giving the boy a bath and stepped away briefly, returned to find the child face-down in the water, unconscious.
The child remained on life support on Friday, and died in the early hours of Saturday, according to Unified Police officials.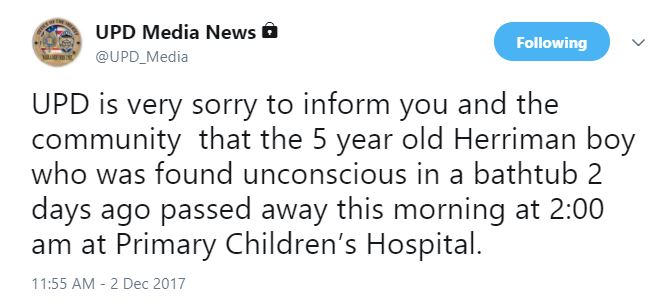 According to UPD Lt. Ken Hansen, officers were called to the Timbergate Apartments at 5605 W. 11830 South at about 6:30 p.m. Thursday after the boy was found unconscious in the tub where his father had been giving him a bath.
The child was flown by medical helicopter to Primary Children's Hospital in extremely critical condition. He died at 2 a.m. Saturday.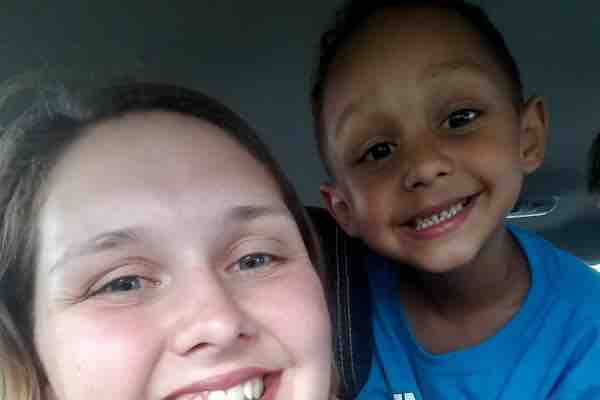 Photo: GoFundMe