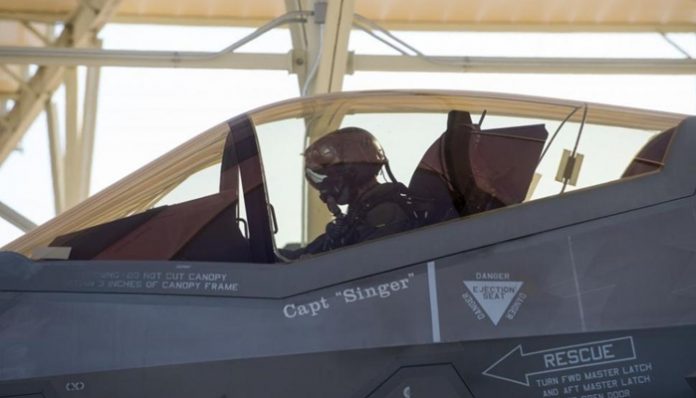 MOUNT HOME AIR FORCE BASE, Idaho, May 5, 2021 (Gephardt Daily) — Pilots and maintainers from the 388th Fighter Wing at Hill Air Force Base enhanced their "deployed agility" with the F-35A Lightning II during an exercise in Idaho last week, officials said.
From April 27-30, airmen from the 34th Fighter Squadron and 34th Fighter Generation Squadron completed an Agile Combat Employment Exercise, designed to prepare airmen to rapidly forward-deploy fighters and operate from a forward base, said a news release from Hill Air Force Base.
To be agile and unpredictable in their movements, fighter units must train to operate with limited resources, personnel, and time to generate sorties from almost any available airfield in the area, the news release said.
"Potential adversaries are so used to us showing up in-country, staying in the same place for half a year, doing the same things, and leaving," said Lt. Col. Aaron Cavazos, 34th FS commander, following a recent combat deployment. "They know it. We know it. Now we proved we can be more agile."
To simulate that concept during this exercise, airmen from the 34th FGS flew to Mount Home Air Force Base, on a C-17 with all of their required gear and equipment, flying into an unfamiliar location while performing rapid cargo download and upload to recover, fuel, and launch F-35s without persistent ground personnel or equipment.
"An ACE exercise is a small footprint of the squadron's capability to turn jets in a potential combat scenario," said Master Sgt. Jonathan Whelan, 34th Fighter Generation Squadron Production Superintendent. "We executed the 'Core 54' process, which is where we had cross-trained weapons troops and integrated avionics specialists recovering and turning jets with crew chiefs. That also enables us to have a smaller footprint."
During an ACE exercise, the maintenance manpower required is drastically reduced compared to home-station or main base operations through training multi-capable airmen, the news release said. For airmen, the training ensures they're prepared to complete their mission at a new location.
"We proved the concept where we could take that small footprint and forward deploy and prep jets with minimal manning," said Whelan. "From a logistics standpoint, we learned what we could do better in the future to improve these exercises and during a combat scenario. It definitely helps our airmen prepare for larger operations in the future, but doing it here on a smaller scale than what might happen."