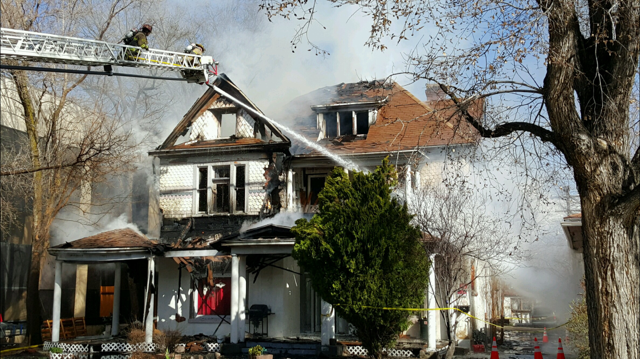 OGDEN, Utah, March 18, 2016 (Gephardt Daily) — A multi-unit home is a total loss after a fire broke out in one of the units Friday morning in Ogden.
Ogden City Fire Battalion Chief Hal Van Meeteren said a call came in at about 8:30 a.m. from a resident in one of the units at a home, located at 566 E. 24th St., who told dispatchers a mattress had caught fire.
"When our crews arrived, they attempted to locate where in the home the fire originated, but due to the unnatural structure of the home, they were not able to," Van Meeteren said.
"This home was built near the turn of the century and at some point was converted to six separate units within the actual home. This made it very difficult for us to find the origin of the fire."
Van Meeteren said once firefighters left the structure from the inside, the roof collapsed and they were not able to contain the fire for some time.
"There may be some personal items on the first floor that are salvageable, but that is all," Van Meeteren said. "The red cross has arrived and will be helping the families with shelter."
Approximately eight to 10 people have lost their homes in the fire. No one was injured.