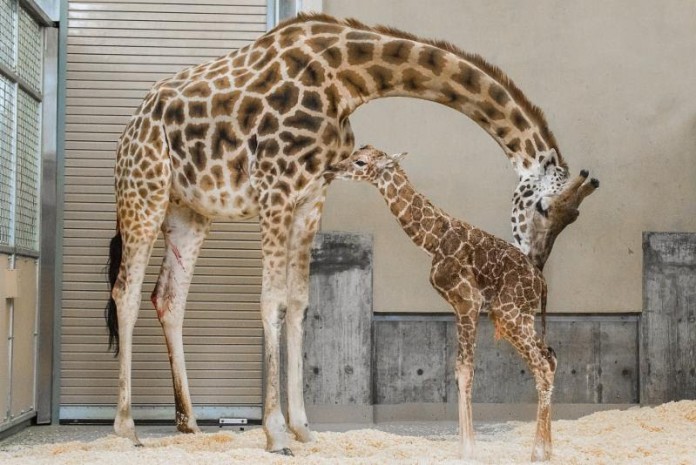 SALT LAKE CITY, Utah, Jan. 19, 2016 (Gephardt Daily) — Hogle Zoo has welcomed a new 6-foot addition to its animal family: Willow the baby giraffe.
The female was born at 12:23 p.m. on Jan. 13. As is normal when a giraffe is born, the baby faced a 4-foot drop to the ground.
A press release from the zoo said the little pile of limbs was immediately cleaned up by mama, 13-year-old Pogo, and the newborn was standing up, nursing, within the hour.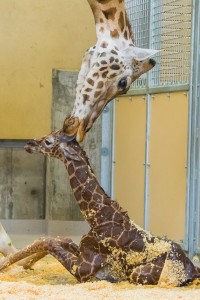 Willow, by the keeper's estimate, already weighs roughly 125 pounds.
"We are very excited to have a baby giraffe. She is absolutely precious," said Holly Peterson, giraffe keeper. "Her mom is doing such a great job with her ─ she's protective and attentive. And (dad) Riley is also curious about the little one. He'll stick his head over from the neighboring stall to sniff her."
Riley, 12, returned after a brief stay at Oregon Zoo while construction of Hogle's new African Savanna was completed.
Peterson said the zoo is proud of its 17 successful giraffe births since 1969.
"I believe we have the second oldest giraffe, 'auntie' Daphne, and the youngest giraffe, Willow, in the country," Peterson said. "And our other females, the aunties, are doing great with Willow. They seek her out to sniff and lick her ─ it's awesome."
Visitors to Hogle Zoo can meet Willow and her mom Pogo as soon as the weather warms up a little.