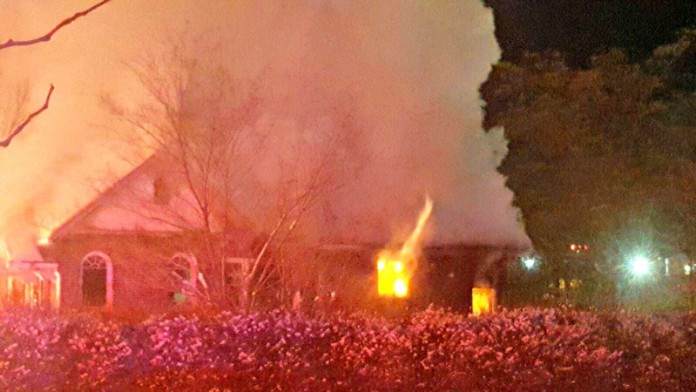 HOLLADAY, Utah, Dec. 25, 2015 (Gephardt Daily) — A Holladay homeowner spent the last hour of Christmas watching a fire that raced from his ground floor to his attic and basement.
At about 11 p.m., firefighters responded to a call from 1880 Sycamore Lane (4730 South).
"By the time our crews arrived the house was pretty heavily involved," said Brian Anderton, Unified Fire Authority battalion chief.
The male homeowner, who was the only person in the residence, was outside.
"He had heard some crackling sounds, and that was what notified him, alerted him to the fire, and allowed him to get out," Anderton said.
"When we got here, the homeowner was trying to get some possessions out. We always advise people once you get out, stay out. It's not worth losing your life for your possessions."
Anderton said five engine trucks, two ladder trucks and two ambulances, from the Unified Fire Authority and the Murray City Fire Department, arrived at the scene. The resident was checked out for smoke inhalation, and found to be uninjured.
Anderton would not speculate whether the house was a total loss, but said the damage was significant.
"The homeowner will not be back in his home tonight," Anderton said.
The cold temperatures probably did not contribute to the fire danger, but did change how the strategy for putting the fire out, Anderton said. In freezing temperatures, using too much water can cause ice buildup, and increase slips and falls for people working on scene.
"We are trained to work in various climates and temperature variances," Anderton said.
Anderton said the fact that the fire moved quickly to several levels of the house was a good indication, "that it was burning pretty hot."