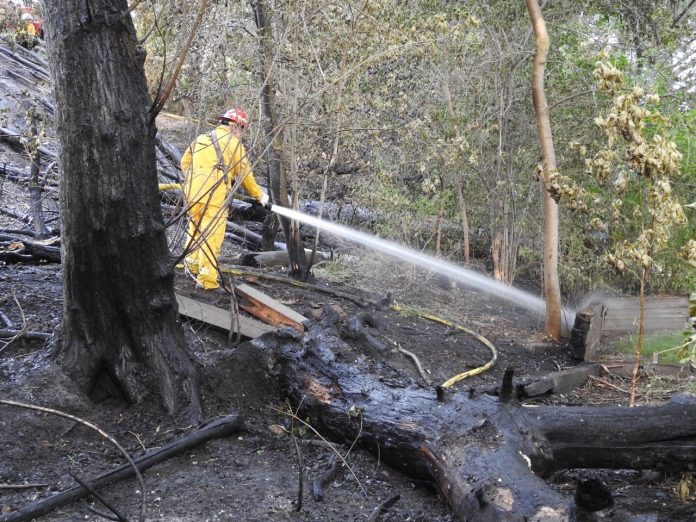 HOLLADAY, Utah, June 28, 2018 (Gephardt Daily) — A total of 20 firefighters were called to a grass fire between a residential area and a park in Holladay Thursday night.
The grass fire broke out next to Creekside Park at 1592 E. Murray Holladay Rd. (4700 South) in Holladay just after 7 p.m., Steve Prokopis, district chief for Unified Fire Authority, told Gephardt Daily.
"It's bordered on the west by Colony Drive; there is a heavily wooded area between the park and the residential," Prokopis said. "It only ended up being about a half acre, but it's heavily, heavily wooded, there's a lot of dead fall over the year, so we'll be here for a while, mopping up. There's a lot of ground fuels in this area."
Dead fall is a mass of fallen trees and branches, that could contribute to the intensity and spread of a grass fire.
There was some minor damage to fences, a shed and a trampoline, Prokopis said.
"This is deep into the park, it's a little tough to access, we had to go through some yards on the Colony Drive side, but we got to where we needed to be," he added.
Prokopis said some witnesses saw people in the area where the fire started but there is no credible information as to the cause.
"We have some investigators on scene and we're going to work it like we usually do," Prokopis said. He said crews are likely to be on scene until around 11 p.m.
Gephardt Daily will have more on this developing story as information becomes available.