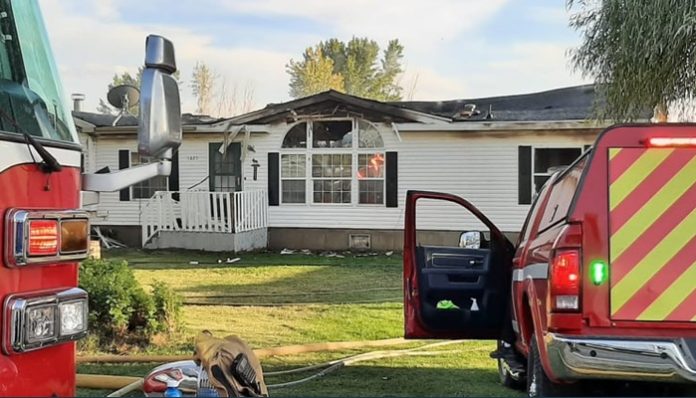 MARRIOTT-SLATERVILLE, Utah, Oct. 4, 2021 (Gephardt Daily) — A home in Marriott-Slaterville is being called a total loss after it was destroyed by fire Monday afternoon.
Firefighters were called out to reports of a structure fire in the area of 3225 W. Pioneer Road at approximately 4:15 p.m., Jared Taylor, a deputy fire marshal with Weber Fire District, told Gephardt Daily.
"Immediately when crews got on scene smoke and flames were showing from the roof; there was roof collapse within the first 15 minutes of being on scene, so once the fire got going, it really started to move across the truss system and got into the attic," Taylor said.
The homeowner was transported to an area hospital to be treated for smoke inhalation, Taylor said. It appears the fire started in the back of the house, on the deck, and the homeowner was trying to put it out with a garden hose. The fire then spread up the outside of the home and got into the attic space.
No one else was injured as a result of the blaze.
The cause of the fire is under investigation.
Taylor said crews from Ogden, Roy and North View fire also responded to the scene and around 32 firefighters battled the blaze.
He added that three-quarters of the roof was destroyed and there is extensive smoke and water damage throughout the residence.
Gephardt Daily will have more on this developing story as information is made available.