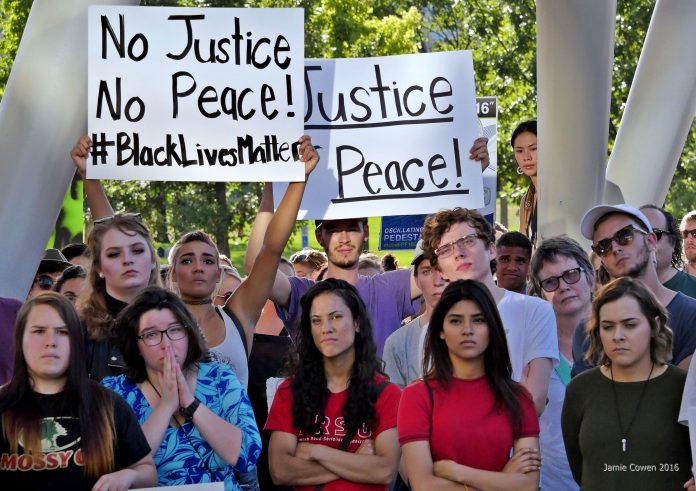 SALT LAKE CITY, Utah, July 10, 2016 (Gephardt Daily) — Hundreds of protesters gathered in downtown Salt Lake City Saturday, adding their voices to a chorus of concerned Americans anguished by a spate of controversial officer-involved shootings, both in Utah and across the United States.
The most recent incidents, which played out first in Baton Rouge, and then St. Paul, were recorded on video and shared by way of social media.
In both instances the shooters were white cops and the victims black males.
The backlash over he videos fueled demonstrations across the U.S., including the one in Dallas, Texas, where five police officers were killed in a military-style ambush. The gunman, a black man and a former Army vet, said he "wanted to kill white people, especially white cops."
The emotional toll of the week's events could be seen in the faces of those attending the Salt Lake City's rally, their anger over the officer-involved shootings tempered by the deadly events in Dallas.
"We don't shoot cops," said speaker Lex Scott. "That guy who shot cops can go to hell. All that did was put a bigger target on our backs. Apartheid ended in South Africa and not because Nelson Mandela picked up a machine gun and started killing cops."
Scott made the comments while openly carrying a pistol which was strapped to her thigh. While decrying the attack in Dallas, she had a message for law enforcement.
"We're not going to let you keep killing us," she said.
Organizer and emcee Hayden Jackson echoed Scott's sentiments.
"Salt Lake City has a pretty negative situation with citizens and police and that needs to change," Jackson told Gephardt Daily.
"Stop killing us. Stop gunning us down. Stop killing black people."
"Being a black, young man, I am considered a thug," said a University of Utah student, who would only identify himself as "Sticks." "I can't even walk to a 7-11 without even thinking that I'm in danger of being shot at. You need to wake the f*** up, people."
Sticks' bluntness was shared by others in the crowd, including a group who consistently confronted a handful of Donald Trump supporters who appeared on the periphery of the protest. Trump has clashed repeatedly with Black Lives Matter demonstrators throughout the campaign.
"We got some huge problems in this country I think have bubbled up over the last few weeks or months, said Trump supporter Robin Pendergast. "It's time to turn this around and develop a level of respect that would rid us of these problems."
A few who listened to Pendergast's comments suggested, not so subtly, that Trump supporters take their message elsewhere.
"Your guy is the one stirring all the trouble. Maybe you need to get lost," said one man.
As the rally came to an end, demonstrators took to the streets, blocking traffic as they marched from police headquarters northward, to the office of Salt Lake District Attorney Sim Gill, at 300 S. State St.
Gill has investigated a number officer-involved shootings in recent months, including that of Abdullah Omar Mohamed, 17, who was shot and paralyzed during a confrontation with police in Salt Lake City's Rio Grande area.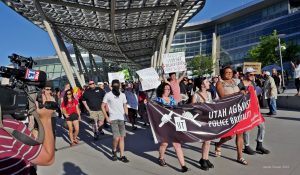 Gill's office has refused to release police body cam video of the shooting until the investigation is over, prompting allegations of a cover up.
The shooting spawned a near riot in downtown Salt Lake City, and generated renewed calls for the creation of a civilian review board to oversee officer-involved shooting investigations.
To see the dramatic video from Saturday's rally click on the video player above.
To see an extended photo gallery of the demonstration, click on the photo gallery below.
Black Lives Matter Demonstration SLC