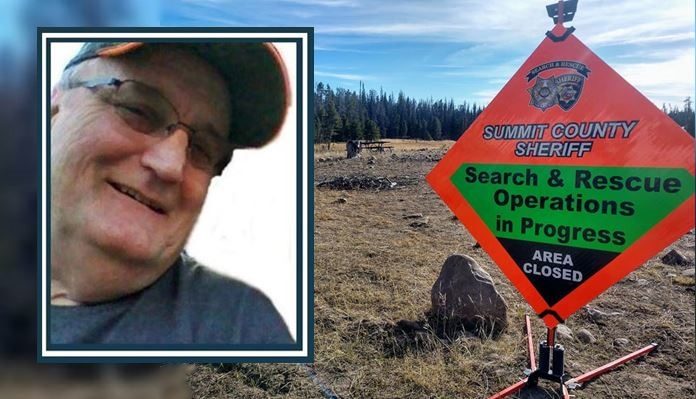 SUMMIT COUNTY, Utah, Oct. 18, 2019 (Gephardt Daily) — The Summit County Sheriff's Office is asking people who want to help in the search for missing 69-year-old hunter Carl Crumrine to sign up with an organization that has offered to help.
"The Garrett Bardsley Foundation is organizing volunteers that want to assist Summit County Utah Search and Rescue in the search for Carl Crumrine," a SCSO Facebook post says. "For information on volunteering please visit the provided link. Thanks to everyone for your care and willingness to help."
Crumrine has been missing since Monday when he and a group of friends went hunting in the Lyman Lake area of the Uinta-Wasatch-Cache National Forest. His friends became alarmed when Crumrine did not return to the designated meeting place.
Summit County Search and Rescue crews responded that night, and they, helped by people from other agencies, have been on the job every day since.
Thursday night, crews reported that several inches of snow had fallen in the search area.
Plummeting temperatures increase the danger for all involved. According to the Weather Channel, the temperature in Summit County's Park City will fall to 26 degrees overnight.
Crumrine was visiting from Buckhannon, West Virginia.
Son Paul Crumrine told a West Virginia news station, WDTV, that his father was an experienced hunter, and was prepared for emergencies.
The younger Crimrine said on his Facebook page that he arrived in Utah on Thursday to join searchers.
Search dogs and National Guard helicopters were participating in the search, he said.
Photos released by the Summit County Sheriff's Office revealed that ATVs and horses were also on site.
Paul Crumrine said on Facebook late Friday afternoon that some footprints had been found in an area that had not yet been searched.
"The most experienced crews are on it plus the Apaches are extending out that direction," his post said. "Fingers crossed!"
Gephardt Daily will have more on the search as news breaks.