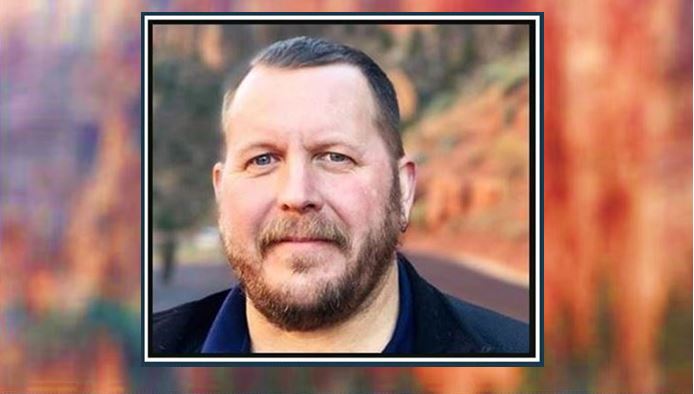 SALT LAKE CITY, Utah, May 24, 2019 (Gephardt Daily) — The husband of shooting victim Dennis Rowley Gwyther wants him remembered for how he lived, not for how Dennis died after being shot as he drove a Utah roadway toward Idaho for a work assignment.
Matt Gwyther said Dennis, 50 and a flight attendant for SkyWest, was an avid sailor and well known at the Great Salt Lake Yacht Club. He was an active supporter of the LGBTQ community, and a great father to two teenagers. Dennis was caring, compassionate, and playful.
And Matt Gwyther wants Dennis' name kept separate from the name of "that asshole," the suspected shooter, who was arrested Friday afternoon after fleeing police and sparking a two-day manhunt.
For a story on that suspect's arrest, click here.
Matt Gwyther shared his family's statement regarding Dennis' death on Thursday, prior to the suspect's arrest. Read it below:
Dennis Rowley Gwyther was a loved husband, father and brother.
He loved his family. His family was the most important thing in his life. He married Matthew Gwyther, the love of his life, the day gay marriage was legalized in Utah 12/10/13. He enjoyed being the bonus dad to his two teenage kids.
Loved to have fun and laugh. A kid inside an adult body.
Always kidding around and playing jokes. Loved gadgets. A literal genius when it comes to technology. He could create anything especially if it involves wiring. He did sound and lighting for many clubs in Salt Lake.
He was an entrepreneur and always looked for new opportunities.
He was a strong advocate for LGBTQ rights and used his connections to help wherever he could.
His life was tragically taken while commuting to his job as a flight attendant based out of Boise. We are still in shock and have not processed much as the suspect is still at large and investigation is pending. We want him caught and swift justice.
Michael Aaron, publisher of QSaltLake magazine, shared thoughts on his Facebook page:
What a tragic loss. I'm quite shaken, as I consider him a dear friend. My heart goes out to his husband, Matt and to his many friends.
Aaron shared more in a subsequent post:
They say a person with big ideas but never follows through on them is called a dreamer. Those who follow through are doers. Dennis Rowley Gwyther was a doer. Rest in power, knowing you made a difference in people's lives and in your community.
Matt Gwyther told Gephardt Daily the Idaho State Police had been giving him updates on the manhunt, and said the shooting appeared to be totally random.
Gwyther said that his husband's passenger on that fateful night was treated for his bullet wound, and returned to Salt Lake City and his family on Thursday.
Gwyther said the passenger, a coworker of Dennis, remains quite shaken by witnessing Dennis' violent death from a gunshot wound to the head.
Asked if the passenger was a friend or just a work acquaintance of Dennis, Matt Gwyther had a quick response:
"He didn't have acquaintances. You were his friend or his enemy. You fit into one group fast."
Based on Facebook comments and reactions, Dennis Gwyther had a multitude of friends.