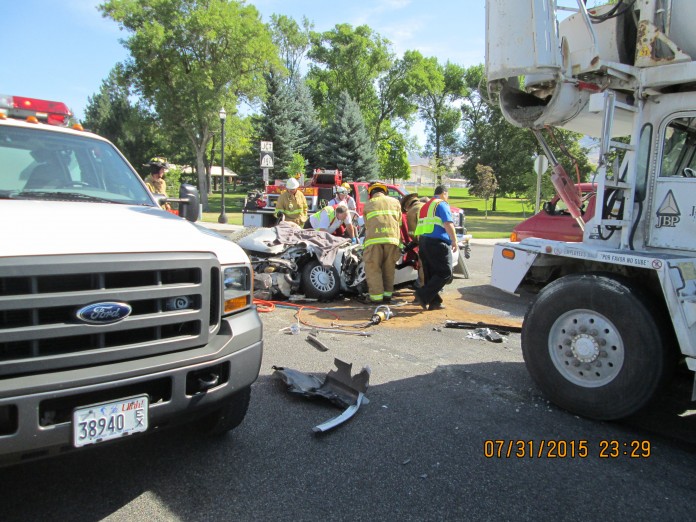 WELLSVILLE, UTAH – August 1, 2015 (Gepahrdt Daily) An Idaho man had to be extricated from his vehicle after being hit by a fully loaded cement truck Saturday morning.
According to Utah Highway Patrol, Debra Leishman, 43, from Wellsville, Utah, was driving a a 2002 Dodge Van and was towing a white 2001 Chevrolet Malibu with Steven Bassett, 50, of Franklin, Idaho, behind the wheel of that car.
Leishman was traveling westbound on 100 south in Richmond approaching State Road 91 when they came to a stop sign and stopped completely.
As Leishman was attempting to make a left hand turn to go southbound onto State Road 91, a Staker Parson cement truck was traveling northbound on State Road 91 at the same intersection.
Leishman told troopers she thought the cement truck was turning eastbound on 100 South so she pulled out onto State Road 91. The driver of the cement truck attempted to stop but ended up colliding with the Malibu Leishman was towing.
The impact cause some of the cement to spill onto the Malibu and the roadway.
The driver of the cement truck, Kyle Jordan, 48, of Preston, Idaho, nor Leishman were injured however, Bassett had to be extricated with the jaws of life and was transported by ambulance to Logan Regional Hospital where he is being treated for a possible broken leg and a concussion but the injuries are not life threatening.
All three vehicles blocked both northbound lanes for approximately an hour.