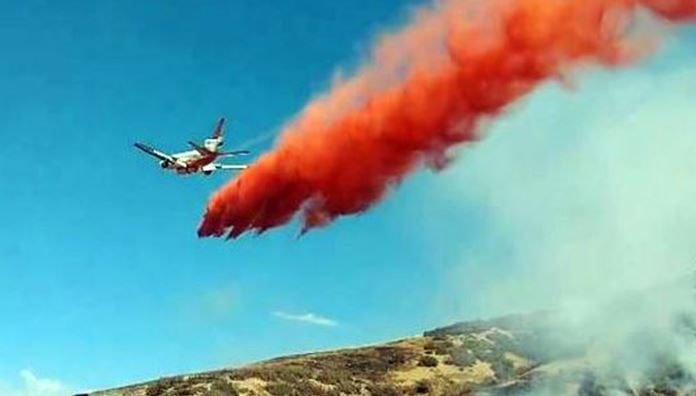 UTAH, Sept. 1, 2019 (Gephardt Daily) — The Utah Department of Public Safety, Division of Emergency Management, is reminding Utahns who live below burn scars to be aware of the potential for dangerous flooding.
The Gun Range Fire is 100 percent contained as of late Sunday, and Utah Emergency Management tweeted:
"This starts a 60-day period homeowners below the Gun Range Fire burn scar have to get flood insurance while having certain requirements waived if they need to file a claim."
An article from 2018 on the DPSNews website explains:
"Scorched soil after a fire becomes hydrophobic — water repelling. So when rain falls following a fire, it has a tendency to get the soils moving rather than penetrating the earth like normal. And it doesn't take much water."
The DPSNews article continues:
If you live below a burn scar:
Contact your insurance agent and ask about flood insurance. It is a SEPARATE policy from your homeowners policy. Your regular homeowners policy does NOT cover flooding. Visit FloodSmart.gov to learn about flood insurance
Plan to maintain a flood insurance policy for at least 3-5 years after a wildfire if you live below a burn scar.
Pay attention to weather reports, specifically flood watches and warnings. You can get updates directly from the  National Weather Service SLC website or Twitter account.
You may need to be prepared to evacuate.
Don't let anyone sleep in a basement during storms. A debris flow can fill basements with water and mud in a minute, blocking doors and trapping people.
Bring important documents above basement level when there is a storm threat. Don't let them get destroyed by a debris flow.
Our Division of Emergency Management's BeReadyUtah program has the following tips:
Don't drive through a flooded area. If you come upon a flooded road, turn around and go another way. More people drown in their cars than anywhere else.
If your car stalls, abandon it immediately and climb to higher ground. Many deaths have resulted from attempts to move stalled vehicles.
Don't walk through flooded areas. As little as six inches of moving water can knock you off your feet.
If you evacuate, take dry clothing, a flashlight and a portable radio with you. Then, wait for help.
Don't try to swim to safety; wait for rescuers to come to you.
If outdoors, climb to high ground and stay there.
To view the DPSNews article, including links to related websites, click here.