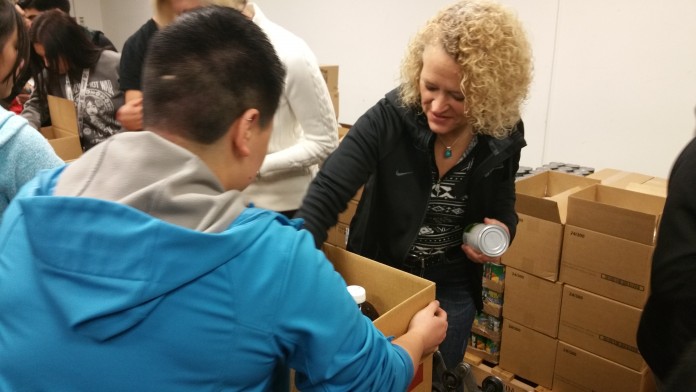 SALT LAKE CITY, Utah, Jan. 18, 2016 (Gephardt Daily) — Mayor Jackie Biskupski paid tribute to officers Doug Barney and Jon Richey as she and her family volunteered for Martin Luther King Jr. Day and the Day of Service on Monday.
Biskupski kicked off the day with a morning volunteer shift at the Utah Food Bank. She was accompanied by her family members and teen volunteers from YouthCity, a program of Salt Lake City that provides activities to young people, ages 9 through 18, to strengthen their skills and confidence to better serve their communities.
Before she began her volunteer shift, Biskupski paused to remember the Unified Police Department officers caught in Sunday's gun battle in Holladay.
"As I do this work today I will carry in my thoughts officer Doug Barney, who was killed yesterday in the line of duty," Biskupski said, Monday. "This is someone I worked with when I was with the Office of the Sheriff and a fellow officer who was with him, officer Jon Richey. I pray for he and his family and the Barney family as well, we hope that as a community we learn to move together, forward, in a less violent way and a much more positive way. In a way that really is about lifting each other up. Hopefully the work we do today together will help us create a society that is much more fair and just than what we know and experience today.
"In the spirit of Dr. Martin Luther King's legacy of service, I'm honored to take part in this annual effort to give back to our community with so many committed volunteers," she added. "Worthy service projects abound in our city. They help us to attach deeper meaning to this holiday, and I encourage everyone who is able to spend time on Monday in service to others.
"A day of service is a big deal, and it's even a bigger deal when you bring your children and help them understand the importance of that. I brought my family with me today and I'm very proud they wanted to get up early and do their part."
Biskupski planned to attend NAACP's annual Dr. Martin Luther King Jr. Memorial Luncheon, and finish the day by offering remarks at the University of Utah's Office for Equity and Diversity rally and march.
Jeanette Bott from the Utah Food Bank said: "On this day every year we come and join with groups of volunteers because this is an important day, it's a day of service, it's a tradition that Dr. King taught us and one that we are responsible to carry on. We'll ask you for three things here at the Utah Food Bank: food, time and money."