SALT LAKE CITY, Utah, April 20, 2016 (Gephardt Daily) — McKenzie Reese, the two-year-old little girl who grabbed the heartstrings of the world and especially that of her favorite "Avengers" hero Hawkeye, died Tuesday morning of cancer.
Jeremy Renner, who plays Hawkeye in the film, took to Twitter after hearing of McKenzie's passing.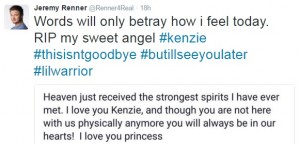 McKenzie, also known as Kenzie, along with her brother and parents Michael and Camille Reese have been huge Hawkeye fans for years. They got their first chance to meet Renner at a previous year's Comic Con when the family took a photo with him, just before Kenzie was diagnosed with cancer.
In March 2016, the family was given the news that Kenzie's cancer was terminal, giving her just a few weeks to live.
But, thanks to the organizers for this year's Comic Con Fan Xperience, Renner had another chance to meet up with the Reese family during FanX held March 24-26 in Salt Lake City.
Dan Farr, founder and president of Salt Lake Comic Con said the request came to his assistant, and they reached out to Renner's agent to see if the actor would be willing to share a private moment with Kenzie and her family.
"We have an amazing team that helped put this together," Farr said. "Jeremy was so kind and gracious, to say the least."
After Renner's panel discussion, he went backstage for a private meeting with Kenzie and the rest of her family.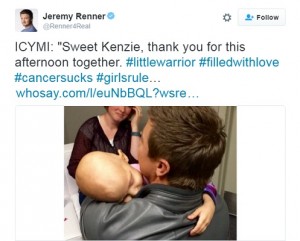 "Kenzie even decided she wanted a snuggle from him," Michael Reese said. "For those that may think that's not a big deal, it's been about two weeks since she has come to me for a snuggle.
"During our conversation, as he was talking and being sweet with her, while she had the biggest smile on, Kenzie asked to get down and happily climbed onto Jeremy Renner's lap.
"It was one of the sweetest moments we have enjoyed over the last few declining weeks and we want to say again, thank you to the many individuals who helped make this happen. This will be a sweet memory we will be able to hold onto and cherish."
Reese said Renner was teary-eyed by the end of the visit, and they could tell he did not want to leave.
"It was a great 15 minutes with our family's favorite Avenger!" Reese added.