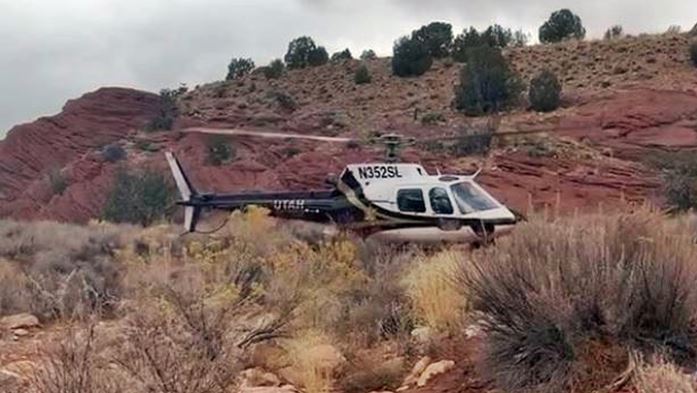 KANE COUNTY, Utah, Nov. 23, 2019 (Gephardt Daily) — First responders came to the rescue of a couple that lost their way in the Wave/Wire Pass area of Kane County.
Crews responded to a report of overdue hikers on Thursday. Kane County Sheriff's Office, Kane County Sheriff's Office Search and Rescue, Bureau of Land Management, and Utah Department of Public Safety responded to the scene.
"Report came in from a family member that stated that her parents were supposed to call after they completed their hike to the Wave the previous day," says a post on the Kane County Sheriff Facebook page.
"The couple, in their early 60s, had permits to the Wave and began the hike in late afternoon on November 20th. Witnesses stated that they saw the couple hiking to the Wave who appeared to not be prepared (one wearing shorts and both had light jackets) for the weather that was currently rain/snow mix."
A deputy and BLM ranger responded to the area and found two vehicles, and immediately began a search for the couple.
"Kane County Sheriff's Office Search and Rescue, (KCSAR), was called out along with Utah Department of Public Safety's helicopter.
"The husband was able to make it back to the vehicle and call his daughter. Deputies located this individual and found that he left his wife behind because she was too weak to make it back.
"From his description of her location, deputies had a good idea where the wife was at and sent the KCSAR team and DPS helicopter to that location. Searchers located the wife who was extremely cold and weak. DPS transported her back to Wire Pass trailhead where she was reunited with her husband."
According to the husband, the couple made it to the Wave but on their way back took a wrong turn which eventually placed them in the Wire Pass slot canyon.
"That night resulted with heavy rain and snow which caused the couple to hunker down and wait it out. According to the husband it was "the longest night of his life."
https://www.facebook.com/250555315018593/videos/3058160260878324/