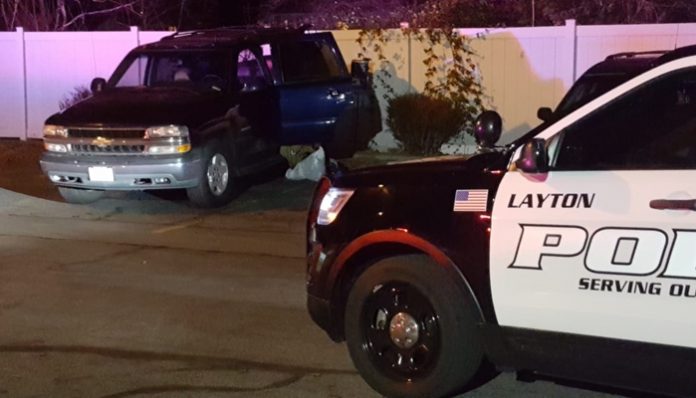 KAYSVILLE, Utah, April 4, 2019 (Gephardt Daily) — Kaysville police are investigating after witnesses said approximately five shots were fired in the area of a trailer court Thursday night.
Lt. Shawn McKinnon, Kaysville Police Department, told Gephardt Daily that at about 6:50 p.m., an SUV pulled up to one of the trailers in the area of 680 N. Main St., and an argument ensued between numerous individuals.
"After that several shots were fired," McKinnon said. "The vehicle left the area and at this point we don't believe anyone has been injured."
McKinnon said police are following up on leads before they issue any suspect names.
"We were given a name by somebody here in the trailer court that led us to an apartment complex in Layton, there was a vehicle found there that we believe might have been in Kaysville," McKinnon said. "We processed that vehicle that was at that scene and we're writing a search warrant for one of the homes in Kaysville."
The abandoned vehicle, thought to be a blue Chevy Tahoe, was found in the area of 225 N. Fairfield Road, Layton.
McKinnon said at least five shots were fired, but at this time it's not clear if it was an exchange of gunfire or if the gunfire was coming from one source.
A witness, Kostya Barzin, who lives in a home in the area of the shooting, talked to Gephardt Daily:
"We were just hanging out on the porch and we heard a few shots, it was just like, pop pop pop, and my girlfriend thought it was a nail gun, and I was just like, I don't know, that was a little bit too loud for a nail gun. It was pretty loud."
Barzin said he thought he then heard a car speeding off, but he wasn't sure.
Later they heard there had likely been shots fired.
"It's worrying, because the people right here, they've got a couple of kids, and we are just two or three trailers down, so this is home, so it's very scary, it kind of makes you wonder what's going on around here," Barzin said. "It's a pretty close-knit community, so I'm glad nobody got hit, that's for sure."
McKinnon said it's not clear at this time how long officers will be at the scene in Kaysville, but it could be until around midnight.
Gephardt Daily will have more on this developing story as information is made available.