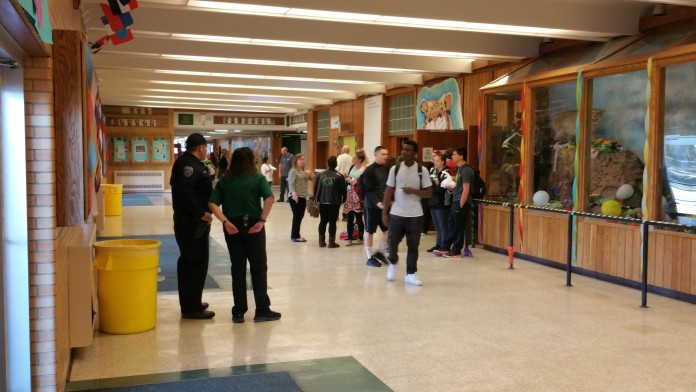 KEARNS, Utah, Feb. 19 (Gephardt Daily) — Law enforcement officials descended on Kearns High School Friday morning after an emailed threat was made against the school.
Unified Police officers and personnel from other law enforcement agencies searched the school, and a K-9 unit of sniffing dogs was brought in while students remained together in the school's auditorium, unaware of the threat.
Granite School District spokesman Ben Horsely posted information afterward on the district's Facebook page.
"We can at this time disclose that the threat was received from off of campus via email," the statement read, in part. "From the onset, this threat was not considered to be very credible. Regardless, every threat is taken very seriously by both school and law enforcement officials."
Horsely's statement said students, who were attending an assembly Friday morning, were kept together in the auditorium while officers from the Unified Police Department and other agencies searched the school for evidence of the threat, the nature of which Horsely has declined to reveal.
A K-9 unit of sniffing dogs was brought in. When Gephardt Daily asked whether the incident was a bomb threat, Horsely said he would neither confirm or deny that was the case.
Officials hoping to minimize panic planned to notify parents and students of the situation as soon as the school was cleared by police and known to be secure, Horsely said.
"Those communications were intended to be coordinated, but it appears that parents were notified before students and we apologize for that," Horsely said in the statement.
An ongoing investigation will attempt to identify the person who sent the threatening email, he said.
Students and other community members who have information that could assist investigators are encouraged to contact Unified Police through its tip line, 801-743-7000.