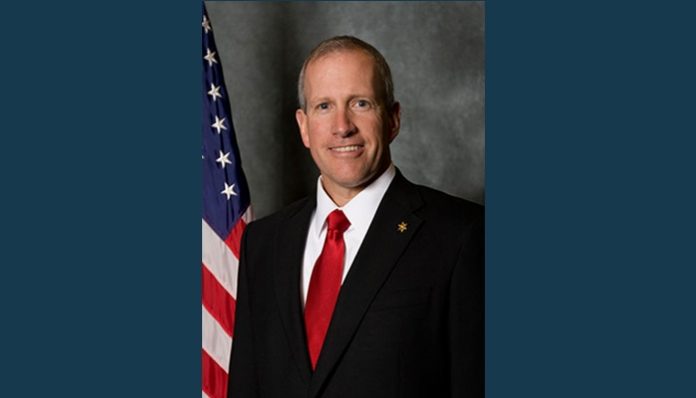 SALT LAKE CITY, Utah, Aug. 23, 2018 (Gephardt Daily) — Utah's Commissioner of Public Safety Keith D. Squires is retiring after more than 30 years of service, Gov. Gary Herbert announced Thursday.
Major Jess Anderson has been appointed to the position, subject to confirmation by the Utah Senate, the Governor's office said in a news release.
"I am grateful to both of these men for their dedication to our state, and to the safety of its people," Herbert said. "Commissioner Squires has not only been a trusted and well-respected member of our cabinet and leader in our law enforcement community, but he is also viewed as a national expert in public safety and is often called on for his expertise. We will miss his contributions in state government."
Herbert added, "I am sad to see this chapter end, but I look forward to working with Major Anderson, and I believe he will make wise decisions when it comes to our public safety."
During his more than 18 years at the Department of Public Safety, Utah Highway Patrol, Anderson has served in various capacities including on patrol, bicycle squad, motor squad, Special Emergency Response Team, DUI squad, and as a member of executive protection.
He currently serves as an assistant superintendent, charged with overseeing 475 state troopers throughout Utah. He also served as the president of the National Governor's Security Association from 2009-2016.
"This is a great honor, and I look forward to working alongside the men and women of our Department of Public Safety to protect the residents of our state," Anderson said. "I have so much trust in these brave officers, and together we will continue to improve safety in our communities."
The Governor expressed his gratitude to both Squires and Anderson for their efforts throughout Operation Rio Grande. Both men have been involved in helping reduce crime amongst the homeless population in the Rio Grande community, he said.
Squires has served in his current position since June of 2013. Additionally, he has served as a sworn law-enforcement officer in the state of Utah for more than 31 years. During that time, he has also served as Deputy Commissioner of Public Safety, Director of Emergency Management, and as the Governor's Homeland Security Advisor. Squires is retiring to accept a position in the private sector.
Squires will conclude his service to the State on Aug. 31.