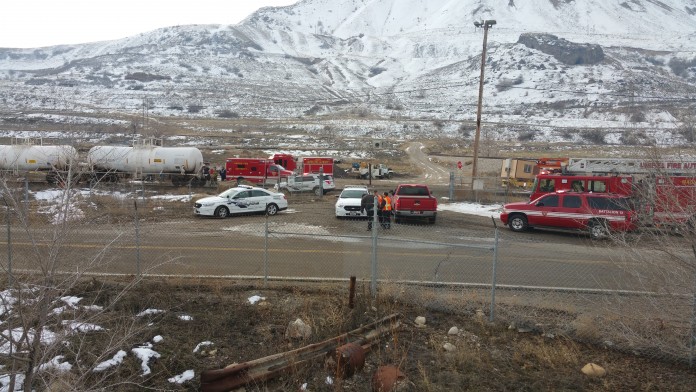 MAGNA, Utah, Jan. 22, 2016 (Gephardt Daily) — One man was transported to hospital via Life Flight after an accident involving a train at the Kennecott Copper Refinery Friday morning.
Rio Tinto Kennecott spokesman Kyle Bennett said the accident happened at 9:05 a.m. at 11500 West and State Road 201, when a contract rail employee had a leg pinned under a rail car.
Bennett said emergency response crews from Kennecott as well as County Emergency Dispatch arrived within a few minutes, and Life Flight was also dispatched.
The individual was removed a short time later and taken to the University of Utah trauma unit. Bennett said the victim was conscious, and there was damage to his leg, but his condition is unknown at this time.
The victim was a switchman, whose job it was take rail cars safely from one track to another.
Bennett said Kennecott will be working with the contract facility to do a full investigation. He said he did not know which direction the train was travelling in or at what speed.
Kennecott has stopped rail service for the time being and Bennett said it will not resume until they have a clearer picture of what happened.