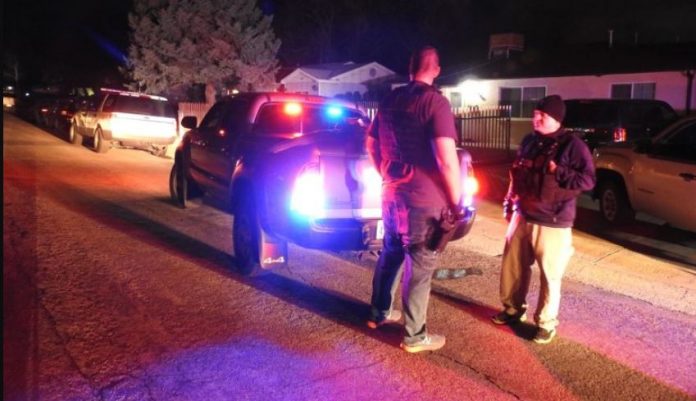 KEARNS, Utah, March 23, 2018 (Gephardt Daily) — A fugitive was taken into custody on Thursday night after police spotted him in a stolen pickup truck, pursued him, then tracked him with K-9s.
Sgt. Zach Van Emmerik, Metro Gang Unit, said the incident happened at about 11 p.m. in the area of 4460 W. 4955 South, Kearns.
Van Emmerik said a citizen had seen the suspect throw a gun out of the stolen pickup earlier in the day, and reported it to officials. That's how officers became aware of the fugitive's approximate location.
The suspect, wanted on felony warrants, was a man "with a history of fleeing from us," Van Emmerik said. "We found him, and he did flee. A short distance away we found the vehicle, and he had fled."
Officers set up a containment area and called for K-9s to help search for the suspect.
"We were able to locate him a short time later," Van Emmerik said. "He was spotted on the roof of a house a short distance away.
"That was when he jumped down and we were able to safety take him into custody. He's got felony warrants and he's a known gang member."
Van Emmerik did not release the man's name or the nature of the felony warrants. New charges will include possession of a stolen vehicle and fleeing police.
The suspect also illegally changed the license plates on the vehicle, and attempted to change its appearance with spray paint, Van Emmerik said.