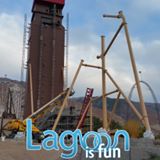 UPDATE: Lagoon's 'Cannibal' Now Open to Daring Riders
[hdplay id=95 width=710 height=480]
FARMINGTON, UTAH – July 2, 2015 (Gephardt Daily) It's finally here. The day everyone has been waiting for. Lagoon's thriller  ride 'Cannibal' is now available for anyone daring to ride it.
This ride is going to literally eat you up! Here is a first look at the roller coaster doing its very first test drive!
Lagoon is getting ready to give entertainment park enthusiasts the ride of a lifetime on the new 'Cannibal' rollercoaster. The attraction has been in planning for years and under construction for two years.
12 riders per cart will have the experience of a lifetime on Lagoon's tallest attraction going to a height of 208 feet while traveling 70 miles per hour. Riders will be vertically lifted to the maximum height of 208 feet and then shot down at a break-over angle of 116 degrees into an underground tunnel. Don't forget the loops that will soar riders all throughout the air. The maximum inverted loop stands at 140 feet tall. Approximately 1,200 riders will experience the new roller coaster per hour.
To see exactly what riders are in for, watch the virtual tour of the Cannibal.
[hdplay id=47 width=500 height=320]