LAVERKIN, Utah, Feb. 17, 2016 (Gephardt Daily) — Charges have been filed against a LaVerkin couple after officers discovered evidence that the two had exploited an older relative through check fraud.
LaVerkin police officers reportedly investigated after an 87-year-old woman told them she suspected her grandson, Dustin Christensen, and his wife, Crystal Jade Randall, were responsible for $6,000 in missing funds.
Randall was previously charged with child abuse stemming from a December incident in which she allegedly took drugs with her 2-year-old son present and passed out. When she came to, she discovered the child cold and choking after being trapped under her legs.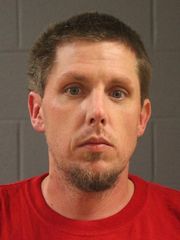 Felony charges added Saturday include six counts of forgery, and one count each of theft of a motor vehicle and possession of a stolen vehicle. Misdemeanor charges include receiving stolen property, possession of drugs and paraphernalia, and adult abuse.
Both remain in custody at the Purgatory Correctional Facility in lieu of $50,000 each in bail.
In addition, officers who visited the couple's residence on Saturday encountered six other people, most with outstanding warrants, whom they also arrested.
Also taken into custody at the home, according to booking logs, were:
• Angela Dawn Clement, arrested on two charges of possession of drugs, possession of paraphernalia and a warrant.
• Amelia Marie Guerrero and Crystal Ann Jones, each arrested on an outstanding warrant.
• Monique Salas, arrested on a charge of giving false information to police and on three warrants.
• Chasi Dawn Winningham, arrested on charges of possession of drugs and possession of paraphernalia.
• And Andrew William Guerrero, arrested on a warrant.