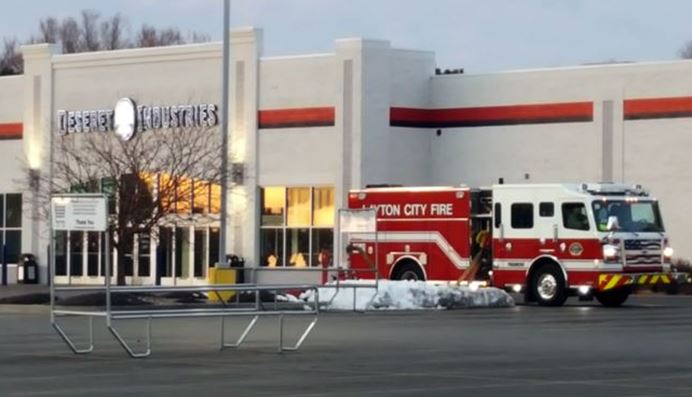 LAYTON, Utah, Dec. 7, 2019 (Gephardt Daily) — Police in Layton responded to the Deseret Industries on Saturday afternoon after a caller told 911 his brother had accidentally donated dynamite.
Crews arrived at the D.I. shortly after the 12:50 p.m. dispatch call and spent hours at the location with sniffer dogs, both from Hill Air Force Base and The Church of Jesus Christ of Latter-day Saints, which owns the thrift store.
At about 5:30 p.m., the search ended without anyone finding hazardous material.
At the time of the call to dispatch, Deseret Industries was evacuated and employees were sent home. A tweet shortly after that asked the public to stay away.
The call came in from a discontinued cellphone, Lt. Trevor Lyman, Layton Police Department, told Gephardt Daily. Many disconnected phones still have the capability of calling 911.
"We were not sure if the call was legitimate, but we went to D.I out of an abundance of caution," Lyman said. "We had Hill Air Force Base bomb sniffer dogs come in, along with the LDS Church canine, and we didn't find anything all all."
Lyman said he knew the call could have been a hoax, or it's even possible someone called with bad information.
"We don't know. It's a possibility (it was a hoax), but we have to treat it as legit if there's a chance it could be true. But we haven't been able to find anything or reach the caller."
Besides Layton Police, others who responded were Layton City Fire, Hill and LDS Church Security, Lyman said.