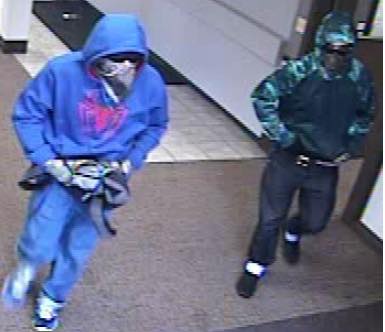 LAYTON, Utah, Feb. 27, 2017 (Gephardt Daily) — The Layton City Police Department is seeking the public's help in identifying two bank robbery suspects captured on a surveillance recording.
The robbery occurred Monday morning at the America First Credit Union, 172 N. Fort Lane. Both suspects were described as about 30 years old and 5 feet 7 inches tall.
A gun was shown, but no shots were fired and no one was injured.
Suspects fled the immediate area on foot, but may subsequently have gotten into the maroon pickup truck. Anyone with any information is asked to call the department at 801-497-8300.