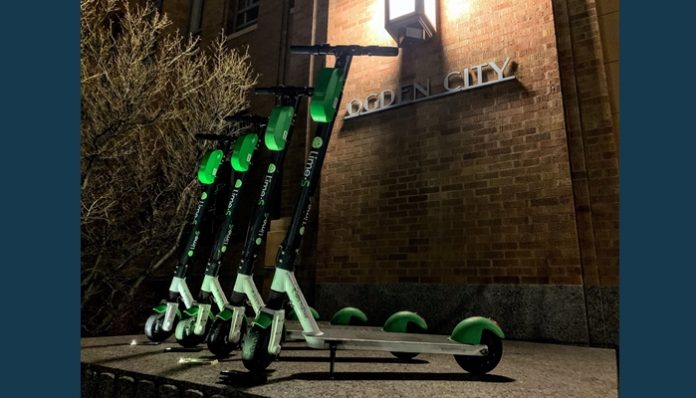 OGDEN, Utah, April 15, 2019 (Gephardt Daily) — Electric scooter company Lime will launch up to 300 e-scooters in Ogden starting Friday, with the possibility of more scooters added based on demand.
The duration of the initial program is three months, according to a press release from Lime on Monday.
"Lime is the largest shared scooter and bike provider in the United States, operating in more than 100 cities on five continents, with more than 34 million rides already taken," the press release said.
"The collaboration between the city of Ogden and Lime will help reduce congestion and pollution, and connect people to public transit."
About one third of scooter users say they would have driven or taken rideshare if not for a scooter, and 20 percent of Lime users state their last trip was to connect to a public bus or train, the press release said.
"Ogden has undergone such a tremendous transformation in the past decade," said Nate Currey, general manager of Lime in Utah, in a prepared statement.
"The scale of the downtown area was practically made for scooters. With the investment of new complete streets-type infrastructure happening, scooter riders can discover Ogden in a new, safe and compelling way."
The city will celebrate the arrival of Lime on April 18 at 10:30 a.m. in front of the Municipal Building at 2549 Washington Blvd. Remarks will be given by Ogden Mayor Mike Caldwell, Jonathan Hopkins from Lime, and Beth Holdbrook, board trustee from Utah Transit Authority. Attendees will be able to see the Lime scooters, learn about how to ride safely, and get a free Lime helmet while supplies last. Scooters will be available to ride on the streets of Ogden starting Friday morning.
"The arrival of Lime is a great complement to our efforts to build out our bike network and will also help more people experience our great downtown businesses," said Ogden Mayor Caldwell. "The first and last mile solutions for public transit users will prove to be a win-win situation in our community."
The helmet distribution is part of Lime's $3 million investment in its "Respect The Ride" campaign to encourage safe riding behavior and educate communities around safety. More details about the campaign can be found online here. For those not attending the kickoff event, Lime and the City of Ogden have partnered to offer free helmets on a first-come first-serve basis at The Corner at 25th Street and Washington, operated by the City of Ogden, to those who visit Monday to Saturday during the hours of 10 a.m. to 7 p.m.
Lime is also making its Lime Access program available in Ogden, the news release said. Lime Access allows users who demonstrate enrollment in a city, county, state or federal low income program to receive at least a 50 percent discount on their services. For those enrolled, scooters will be 50 cents to unlock and 7 cents a minute to ride. College students receiving financial aid also qualify. More about Lime Access can be found here.