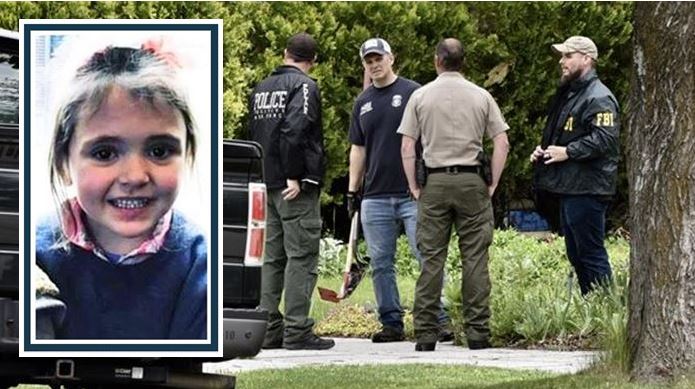 For an updated story, click here.
LOGAN, Utah, May 28, 2019 (Gephardt Daily) — Police in Logan say the have "strong evidence" including "DNA positive materials" linking prime suspect Alex Whipple to the disappearance of 5-year-old Lizzy Shelley.
Logan Police Chief Gary R. Jensen made the dramatic announcement during a Tuesday morning press conference. He did not reveal exactly what investigators have found, but said it was forensic in nature.
The information came just a couple of hours before Whipple was denied bail in 1st District Court.
"We're not sure what is going to happen at this point," Jensen told reporters in the morning press conference.
Elizabeth "Lizzy" Shelley is still missing after thousands of search hours, first by police with community volunteers and now by professionals from a dozen or more local, state and federal agencies.
Lizzy was last seen at 2 a.m. Saturday in her mother's home when the family went to bed, Jensen said. She was discovered missing, as was Whipple, at about 9:30 a.m. that day.
"We do feel strongly we have evidence linking Alex with Lizzy's disappearance," Jensen said.
The FBI recommends searching within certain boundaries, Jensen said, but local law enforcement has received some credible tips beyond the search area recommended by the FBI, so they are following up on every lead.
Some leads are coming from surveillance footage of Whipple, but Lizzy appears in none of the footage, he said.
"We've received hundreds of tips … video surveillance has helped rule out some that weren't accurate," Jensen said.
Now in their fourth day of an intensive search for the missing 40-pound girl, officials now are circling back to previously covered areas near the family's west Logan residence.
Officers responded to one scene where a foul-smelling trash bag was reported, Jensen said. Thankfully, it was not connected to the missing child.
Logan City Police officials have said at several news conferences that forensic evidence found outside the home links 21-year-old Whipple and his young niece. Jensen declined to discuss the nature of the DNA evidence — including whether it was blood — citing his need to "manage the case."
Jensen did say that investigators have evidence to make them believe Lizzy "is at least hurt."
Whipple was found at about 3 p.m. Saturday in a remote area of Hyrum, 10 or 11 miles from his sister's residence.
"We know he's a walker," Jensen said. "We believe he walked to where he was found."
Whipple also uses a skateboard as his means of transportation, but he left his skateboard at his sister's home, police said earlier.
Whipple will likely face only the charges filed Sunday, which are:
Transaction/possession of a dangerous weapon by a restricted person, a class A misdemeanor. This charge appears to be related to a concealed metal bat found on him when he was taken into custody.
Failure to stop at the command of law enforcement, a class A misdemeanor
Failure to disclose identity, a class B misdemeanor
Unlawful purchase by an interdicted person, a class B misdemeanor
Possession of a controlled substance, marijuana/spice, a class B misdemeanor
Use or possession of drug paraphernalia, a class B misdemeanor
Jensen clarified on Tuesday that the metal bat is not considered strong evidence in the case, which suggests it was not believed to be a weapon against Lizzy.
Jensen pointed out that although Whipple has been characterized as "uncooperative" because he has refused to answer questions or discuss the case when being interviewed by officials, "it's also his right to remain silent."
Jensen said everyone working on the case is still hoping to find Lizzy alive, and he's not ready to say she is likely deceased.
"We would never dash the hope that Lizzy is alive," he said.
"I don't ever want to take hope out of the equation … To say it's a recovery — I don't want to go there yet. I don't want to steal hope from those that are hopeful."
Asked if Whipple can be charged in Lizzy's disappearance without her recovery, Jensen said there's a strong potential of that, but the charges would have to be reviewed by the Cache County attorney.
"We do feel strongly that we have evidence linking Alex with Lizzy's disappearance," he said.
"We feel strongly we have a suspect. I'm not saying (what it is), but we do have evidence we found with him."