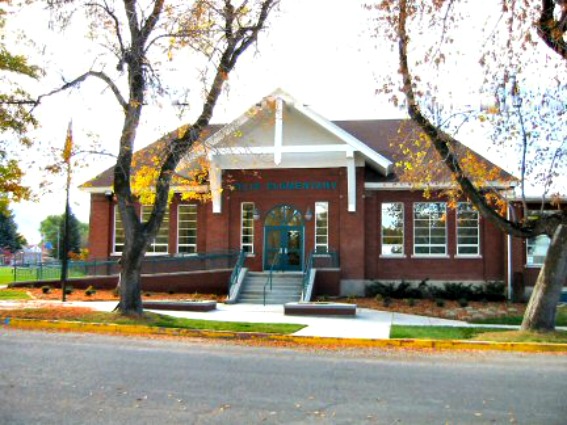 LOGAN, Utah, Aug. 23, 2016 (Gephardt Daily) — Children attending Logan's Ellis Elementary started their first day of classes on Tuesday about a block from an active and unsecured crime scene.
Logan Police officers were east of the school, seeking a suspect after a report of a shot fired at an apartment building.
"The timing couldn't have been worse, of course," Logan Police Chief Gary Jensen told Gephardt Daily. "It was the first day of school, and kids were walking westbound, right through the area where the apartment building was."
The suspect is now in custody, and no one was injured in the incident, which began at about 6:30 a.m. Tuesday when the shots-fired call came in from an apartment building at 255 W. 300 North, Logan.
"Initially, the victim was reluctant to talk to us," said Jensen of the man who was allegedly fired upon.
"He said he was chased by a male, and a shot was fired at him. We assembled a SWAT team, thinking the male might still be in the apartment."
Police were establishing a containment field just as school children were walking past the scene. Students arriving at school were kept in their classrooms, and an LPD resource officer in the school was placed at the front door as a deterrent, Jensen said.
Residents of the apartment building were asked to stay in place.
But as the first containment field was being established, Jensen said, "One of our patrolmen spotted a potential suspect two blocks away, going into a home."
Officers raced to set up a new containment field.
"But before we were fully established with containment, the suspect slipped out the back, working his way west through backyards and fields. He was behind the District Court Building when he was safely taken into custody, without incident."
As of early Tuesday afternoon, police were investigating multiple crime scenes, including the apartment building, the home and the backyards and fields, "… where he may have potentially got rid of a weapon," Jensen said.
Everyone believed involved in the incident is accounted for, Jensen said, and there is no continuing threat to the community."
Jensen said his office was in contact with school district officials to see how they wanted the potential threat handled, and everything worked out as well as hoped.
"We are in great shape and will continue to investigate," he said.