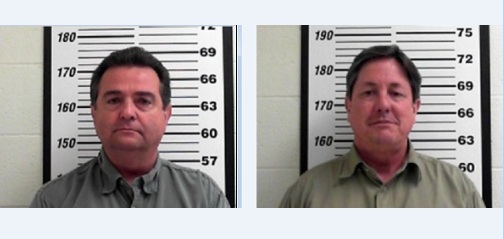 SALT LAKE CITY, Utah, Feb. 24, 2016 (Gephardt Daily) — Fundamentalist Church of Jesus Christ of Latter-day Saints leaders Lyle Steed Jeffs and John Clifton Wayman, arrested on fraud and money laundering charges, both appeared in Utah Federal Court Wednesday morning.
In the Salt Lake City courtroom of Magistrate Judge Dustin Pead, Jeffs,and Wayman, both 56, both entered pleas of not guilty and immediately requested detention hearings.
Judge Pead accepted Lyle Jeff's request for a public defender and set his detention hearing for March 7. Wayman, who arrived at court with his own counsel, has a hearing scheduled for Feb. 26.
Judge Pead said the next court appearances after the detention hearings may be scheduled for St. George, where the case may be heard. Both men will remain in the custody of the U.S. marshals.
Four others also arrested Tuesday appeared in federal court Wednesday morning.
Three of them—Winford Johnson Barlow, Ruth Peine Barlow, and Kristal Meldrum Dutson— entered not guilty pleas in front of Magistrate Judge Robert T. Braithwaite at the Federal Court in St. George.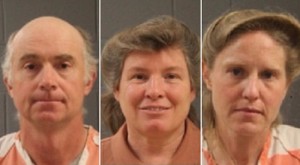 The fourth, Seth Jeffs, who is the brother of Warren Jeffs and has been leading another branch of the FLDS church at a compound in Pringle, South Dakota, also appeared in federal court Wednesday in that state. The outcome of those hearings are still undetermined.
In all, 11 leaders and members of the FLDS Church were charged with conspiracy to commit fraud and conspiracy to commit money laundering Tuesday morning by the U.S. Attorney's Office.
Federal officials allege church leaders diverted proceeds from SNAP ─ the Supplemental Nutrition Assistance Program, formerly known as Food Stamps ─ away from authorized beneficiaries.
The FLDS officials are charged with using those SNAP funds for unapproved purposes and ineligible beneficiaries.
Lyle Jeffs is the brother of former FLDS leader Warren Jeffs, who is currently serving a life sentence in a Texas prison for sexually assaulting two teen girls he said were his "spiritual wives," and has been handling the daily affairs of the organization in his brother's absence.
In addition to those who already appeared in court Wednesday, Kimball Dee Barlow, 51, Rulon Mormon Barlow, 45, and Preston Yates Barlow, 41, all of Hildale, and Nephi Steed Allred and Hyrum Bygnal Dutson, both 55 and from Colorado City, were also indicted.