ST. GEORGE, Utah, Jan. 4, 2017 (Gephardt Daily) — The mother of Macin Smith is expressing renewed optimism her son is alive after Sacramento police confirmed they are investigating numerous possible sightings of the missing St. George teenager.
According to the Sacramento Police Department, an area resident has posted a comment to their Facebook page stating they may have seen Macin.
Detectives are now investigating.
Sacramento Fire tweeted Tuesday: "Please be on the lookout for this missing young man from Utah. His family believes he is in Sacramento. Share & RT." The fire department also shared the Be On The Lookout For (BOLO) poster. Sacramento Police then re-tweeted the information.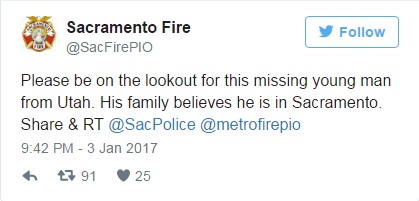 Speaking exclusively to Gephardt Daily, Macin's mom, Tracey Bratt-Smith, shared that there have been three, possibly four sightings in that area.
"I feel more optimistic than I have felt in months," Bratt-Smith said. "The good people of Sacramento County and surrounding areas are really coming together to saturate that area with Macin's picture and information after three, possibly four sightings in the area.
"Apparently there is a large transient population there. We are hoping someone out there knows something to the whereabouts of Macin. I wanted to emphasize, if he's happy where he is, we as a family do not want to disrupt his life. We only want to know he's alive and if he needs anything."
Bratt-Smith and her husband Darrin Smith's son Macin was 17 when he vanished on Sept. 1, 2015. He has been gone for 16 months as of Jan. 1.
Macin, the last of the Smith's six children living at home, walked away from home in the early morning hours when his parents thought he was on his way to school, leaving behind his cellphone, wallet, laptop, even his school binder.
Bratt-Smith and other family members have posted Facebook updates almost every day to the Help Find Macin Smith page in the hope of bringing him home. There is a $10,000 reward in place for information leading to Macin's location.
This spring, Macin's story will be featured on the Investigation Discovery Channel documentary series "Disappeared."
Macin is 6 feet 4 inches tall and weighs 200 pounds. He has light blue eyes and he had short blond hair when he went missing. The Smith family moved to Utah from Canada in spring 2015.
Macin did leave a note, which his parents discovered a week later folded inside his wallet. They have not released the contents, preferring to say the note contained an "intent," which led them to believe he may have planned to harm himself.
Anyone with information about Macin is asked to call the St. George Police Department at 435-627-4300, or David Cummings at Red Rock Search and Rescue at 702-787-4068. Any sightings of Macin in the Sacramento area should be reported to the Sacramento Fire Department or the Sacramento Police Department.
To watch Bill Gephardt's August interview with Tracey Bratt-Smith and Darrin Smith, click below.