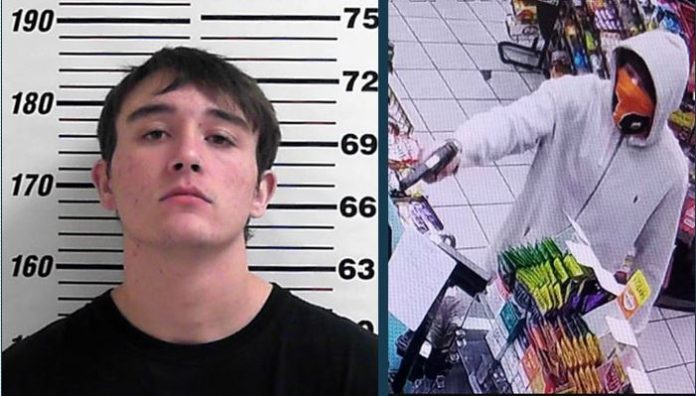 LAYTON, Utah, Nov. 30, 2018 (Gephardt Daily) — An 18-year-old man has been arrested in connection with an armed robbery Tuesday at a Layton Chevron.
Layton Police officials have identified the suspect as Brandon Purcell.
At about 6:50 a.m., a man in a gray hoodie and sweatpants, wearing a knit cap and distinctive shoes, entered the station, at 1508 N. U.S. 89. He was carrying a semi-automatic weapon.
"The suspect pointed his handgun directly at the only occupant at the time inside the business, the clerk behind the register," a probable cause statement says.
"The suspect demands all the money in the register and continues to tell the clerk to hurry and give him the money. The clerk reports fearing for his life during the incident, which lasted roughly a minute.
"The clerk reports giving the suspect all the $20 bills, thinking that was enough. The suspect, after receiving the $20 bills, demands all the money to include the $10s, $5s and $1 bills.
"After receiving all the money in the till, estimated to be between $300 and $400, the suspect flees the business, runs around the backside of the business, and is not seen again on surveillance video."
A white passenger car can be seen next on surveillance, driving south with its lights off and driving through a stop sign without stopping.
On Thursday, informants came forward with video posted on social media of Parcell bragging about robbing a gas station, and displaying a stack of bills of various denominations. In the video, a male can be seen from the waist down, and is wearing shoes with the same brand tags as those worn in the suspect video from the Chevron robbery.
An associate of Parcell reported seeing him shortly before the robbery wearing the clothing shown in the video.
A search warrant was served in the early hours of Friday, and Parcell was taken into custody.
"Brandon confessed to being the individual depicted in the Chevron on 11/27/18 and used a gun from a friend, yet to be identified," the probable cause statement says.
Parcell was interviewed at length after being read his Miranda rights, the report says.
"Brandon reported doing the aggravated robbery for an adrenaline rush and to get some extra money for him to spend on things," the probable cause statement says.
"He would go on in detail about receiving the gun, racking the rounds in the chamber and entering the Chevron and demanding money from the victim clerk."
Parcell has been booked into Davis County Jail on one count of aggravated robbery; use or threatened use of a weapon, a first-degree felony; and one count of theft, a class B misdemeanor.
Parcell is being held in lieu of $26,000 cash-only bail.