WEST POINT, UTAH – September 10, 2015 (Gephardt Daily) – Crews from around northern Utah have fully contained a human-caused fire that started on Tuesday in West Point.
North Davis Fire, North Logan Fire, Syracuse Fire and the Bureau of Land Management are had all been working the West Point fire, which quickly grew out of control and burned nearly 600 acres. Firefighters will stay on scene for the next couple of days to keep the hot spots from spreading.
The West Point fire started Tuesday around 3 a.m. in wetlands just west of West Point, approximately 300 North and 5000 West. "By the time crews arrived, the flames were nearly 20 feet high. We had nearly 60 firefighters on scene, including two helicopters carrying buckets of water and fixed-wing tankers, from Hill Air Force Base, carrying flame retardant," said North Davis Fire Department spokesperson Mark Sessions.
The cause of the fire was unknown at first, but investigators were able to piece together information after dispatchers received a call for help from firefighters. They said a man was harassing them and hindering efforts to fight the fire.
"We were called back to the scene to help with a man who was jumping in and out of fire trucks, swearing at crews and displaying very strange behavior," said Davis County Sheriff Sgt. DeeAnn Servey. "He was taken into custody after making statements that led officers to believe he is responsible for starting the fire."
Servey said the man, identified as Corey Jay Halvorson, 29, had been wandering around with only shorts on—no shoes or shirt—and had burns on the bottom of his feet.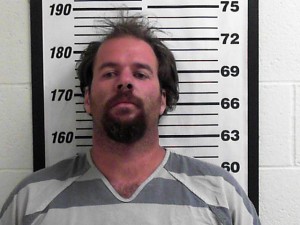 "Halvorson told officers he had been camping nearby, but the area is off limits to the public as it is state-owned wetland," Servey said. "We did find several gates to the area had been broken and we also found his truck parked in the area."
Halvorson was booked into the medical unit at the Davis County Jail on charges of reckless burning, trespassing on state lands, smoking or lighting fires in prohibited areas, disorderly conduct and criminal mischief.
There were no other injuries reported and it is still not clear how or why the fire started.