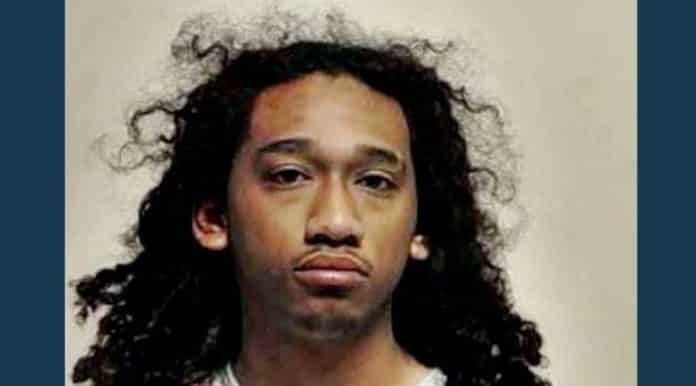 OREM, Utah, March 6, 2021 (Gephardt Daily) — An Orem man has been charged with multiple felonies after police say he stabbed three people inside a Denny's Diner on Main Street Friday afternoon.
According to court records, Joshua Oropeza, 21, has been charged on suspicion of:
Three counts of aggravated assault, a second-degree felony
Attempted murder, a second-degree felony
Disorderly conduct, an infraction
Police were first called to the restaurant at 485 N. State St. about 5:05 p.m.
A lieutenant with Orem PD told Gephardt Daily when officers arrived they found three victims inside the restaurant with multiple injuries, including serious knife wounds.
A fourth person who also was injured was determined to be the alleged attacker. He was taken into custody at the scene.
The incident began when victims to the restaurant, where the man, identified by police as Victim 1, told investigators he had planned to meet his wife, the probable cause statement said. Victim 1 said Oropeza "was acting weird" when he suddenly pulled out a knife and tried to stab him.
A second man, identified as Victim 2, said he was in the restaurant when he heard yelling about "someone being a snitch."
Victim 2 told investigators he then saw two men, Victim 1 and Oropeza, run into the back of the restaurant, where he then saw Oropeza stab Victim 1.
A third man, Victim 3, was in the diner with friends when the violence broke out. He told police he witnessed a struggle near the door, before two men, including one who carried a knife, ran toward the back of the restaurant. 
Victim 2 and Victim 3 attempted to intervene and found themselves engaged in a violent struggle. 
Victim 2 told investigators he joined Victim 3 as they tried hold Oropeza to the floor, when Oropeza "wrapped his legs" around his and he "felt his ankle pop." An X-ray later revealed Victim 2's ankle had been fractured, the probable cause statement said.
Police say Victim 3 was stabbed in the arm while trying to disarm Oropeza. Doctors later reported he had been "stabbed with such force it chipped a piece of his arm bone." 
A fourth man who took part in the told investigators Oropeza tried to stab him as well, but he escaped without injury. 
All three victims were taken to the hospital where it was determined Victim 1's wound was "approximately being 1 inch from being fatal." 
According to court records, Oropeza was recently released from juvenile detention for a 2016 conviction for stabbing two other men. 
The record states Oropeza was "involved in an incident motorist stopped to assist him. In that case, Joshua asked for a ride and attempted to sell the driver of the vehicle drugs.
"When the driver refused to give Joshua a ride, he began to stab him repeatedly in the neck and chest area. A passenger in the vehicle got out to help and was also stabbed in the shoulder and chest," the statement said.